Acura is on the verge of launching a new flagship luxury sedan that will pack more technology than any car they have offered before. This new sedan will be called the RLX.
Considering Acura already has the
RDX
,
MDX
,
ZDX
, the recently launched ILX, and the upcoming NSX, it was only natural for them to add an "X" to the name of their new flagship.
The RL, which has been on sale in Canada in its current guise since 2005, is a very competent vehicle, but has failed to catch on with the luxury buying public.
Acura hopes to change that with their new RLX, which was shown in concept form at the New York International Auto Show this past April.
The 2013 Acura RLX will feature Acura's first application of their Sport Hybrid SH-AWD (Super Handling All Wheel Drive) system. Along with its naturally-aspirated, direct-injected 3.5L V6 engine, it will have three electric motors providing drive power whenever the car thinks it's best to utilize them. Total output should be rated at 370 hp. A front-wheel-drive version was also announced, which will do without the hybrid drivetrain, and will produce about 310 hp.
Regardless of the model, power will be fed to the drive wheels via an all-new 7-speed, dual-clutch automated transmission (DCT).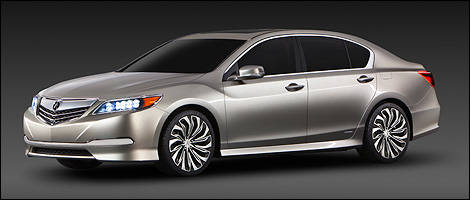 The 2013 Acura RLX will feature Acura's first application of their Sport Hybrid SH-AWD system. (Photo: Acura)
The RLX is almost identical to the current RL in overall length, although the new car will have a 2" longer wheelbase and 2" shorter front overhang. The RLX will also be two inches wider than the current model, and all this will equate to more room inside the cabin.
Inside, Acura promises to offer the latest in infotainment technology with intuitive, easy to operate controls. The RLX will also feature the first application of AcuraLink, their cellular-based two-way communications system, very similar to GM's OnStar.
For the audiophile in the family, an ultra-premium, 14-speaker, ELS surround sound system will be offered. It's not known at the moment if in Canada this system will be offered as standard or part of a premium package.
Offered as standard will be eight airbags, including knee airbags for the driver and front passenger. Forward collision warning and lane-departure warning systems will also be featured as standard. The RLX will also get Acura's first application of their lane keep assist system, which will help prevent the car from wandering into other lanes. These systems are there so you will never have to test its airbags.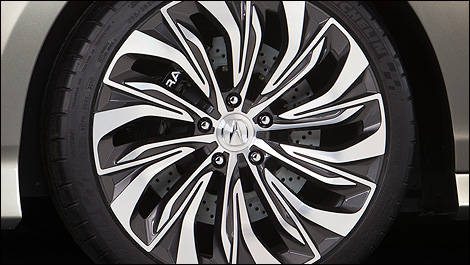 Propeller-style 20" wheels complete the look of this sleek new sedan. (Photo: Acura)
All this new technology will be packaged in a fresh, new design that will be familiar to current Acura owners. The crown jewel of the RLX's design detail are its new "Jewel Eye" LED headlamps, which use a dual-stacked array of lamps with a total of eight separate high-intensity LEDs and ultra-reflective optical lenses. These lamps will not only give this car its signature look, but should also illuminate the road ahead quite effectively.
Propeller-style 20" wheels complete the look of this sleek new sedan.
Acura will launch this new RLX in Canada in the spring of 2013. No prices have been announced yet, but expect them to be similar to the current RL.
2014 Acura RLX