Pros:
The 2014 Aston Martin DB9 is one of the "most posh" luxury exotic cars on the road, meaning one of the most comfortable and beautiful out there. This timeless grand tourer's perfect proportions mimic the near-perfect weight distribution and works with its aerodynamics to make the DB9 as agile and safe as it is fast. Inside, the sumptuous 2+2 seating configuration is slathered in the finest Bridge of Weir hides, real glass and carbon fibre.
Cons:
The DB9 is not the fastest around a track, and no dual-clutch transmission is available. Also,, the rear seats of the 2+2 coupe will never actually be used, but it may be best to keep them as a "nice-to-have."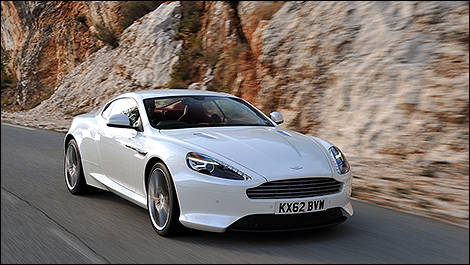 Photo: Aston Martin
2014 Aston Martin DB9 Price:
From the high $100,000 to well over $200,000: The 2014 Aston Martin DB9 is a fully customizable car. There are over 30 possible exterior colours, six wheel designs, four calliper colours, nearly 30 different shades of leather, stitching, pin stripping, and more.
2014 Aston Martin DB9 Fuel Economy:
The 78-litre fuel tank will take you places. EnerGuide Canada rates the 2014 Aston Martin DB9 at 16.2L/100km in the city and 10.7L/100km on the highway. In the real world, though, expect to burn quite a bit more.
Improvements and Changes:
Last year saw the Aston Martin DB9 get a once-over that replaced more that 70% of its body panels and 50% of all parts. For 2014, it remains virtually unchanged.
2014 Aston Martin DB9 Powertrain:
All DB9 models are powered by a silky-smooth 6.0L V12 engine that produces a massive 510 horsepower and 457 lb-ft of torque. As mentioned earlier, the only available transmission is a 6-speed "Touchtronic 2" autobox with a limited-slip differential.
This all-alloy, front mid-mounted AM11 engine uses CNC-machined combustion chambers and hollow camshafts, techie bits lifted directly from Aston Martin's GT race car program. The DB9 will complete the 0-100 km/h sprint in just 4.6 seconds.
Don't miss:
Elegance extends into the smallest detail. For instance, the DB9 features "race track" stitching, inspired by the bends on a circuit. Different thread weight is used throughout the interior of the DB9 with a heavier "10 gauge" thread used to strong effect while a thinner "20 gauge" thread is more subtle and gives finer detail.
On a totally different topic, the revolutionary carbon ceramic brakes are the most sophisticated ever fitted to a DB9. Larger than an equivalent steel brake but an impressive 12kg lighter, they reduce fade through better heat dissipation and improve performance through silicon-injected carbon fibre.
Safety:
All manners of airbags and electronic nannies are standard on the 2014 Aston Martin DB9.
Comparing the 2014 Aston Martin DB9:
Rivals include the Porsche 911, Bentley Continental GT, Audi R8, Jaguar XK, BMW M6, and Ferrari 458.