Pros:
The 2014 Aston Martin V12 Vantage S is, according to the company, the fastest and most extreme series production model it has ever produced, with near-perfect weight distribution and exceptional handling. Never opulent but always dramatic, this super-striking coupe underwent nearly two years of extensive testing to ensure it's tailored for a visceral driving experience. Let's not forget the unprecedented range of options.
Cons:
At this point we're really just nitpicking... Visibility and storage capacity could be better, but who cares? And sure, there are just two seats, but would you actually want to bring the kids along?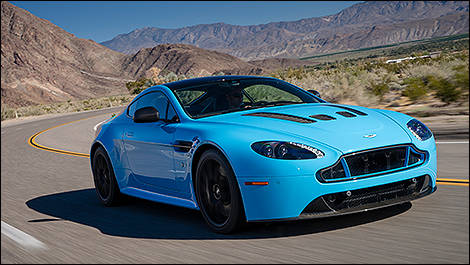 Photo: Aston Martin
2014 Aston Martin V12 Vantage S Price:
The exact Canadian MSRP hasn't been disclosed. In the U.S., the V12 Vantage S starts at $184,995.
2014 Aston Martin V12 Vantage S Fuel Economy:
Official ratings for the V12 Vantage S are still unavailable, but you should know that the outgoing V12 Vantage burned 12.1L/100km on the highway and 19.1L/100km in the city.
Improvements and Changes:
Compared to the V12 Vantage, power and torque are up 11% and 9%, respectively. It also features an even more responsive transmission, an even lighter chassis (-15kg), all-new carbon-ceramic brakes, and a unique track mode with delayed ABS technology.
A bold new carbon fibre grille marries design and engineering to improve airflow. Also, look for new roof and rear graphics packs, lightweight forged alloy wheels, a new exhaust muffler, and brand new interior finishes on the seats, doors and controls.
2014 Aston Martin V12 Vantage S Powertrain:
A front mid-mounted, 6.0L V12 engine produces 565 horsepower and 457 lb-ft of torque. Power is fed to the rear wheels via a new 7-speed Sportshift III automated manual transmission specifically designed to tap the potency of V12 Vantage S. Advanced, light-touch paddle shifters allow seamless gear changes in 70 milliseconds at high engine speeds.
The 2014 Aston Martin V12 Vantage S will cover the 0-100 km/h sprint in just 3.9 seconds, and keep accelerating until it reaches a top speed of 328 km/h.
Don't miss:
Inside the 30% quieter cabin is an Easy-Start button you don't even have to depress to start the engine. Occupants sit in lightweight or sports seats with a new trim layout. Elsewhere, three modes (Normal, Sport, and Track) give fantastic driver flexibility: Hundreds of readings per second adjust each damper based on road conditions, vehicle performance, and driver control.
Safety:
ABS brakes with massive carbon-ceramic discs (398mm front; 360mm rear), emergency brake assist, and fully re-calibrated dynamic stability and traction control systems are all part of the package.
Comparing the 2014 Aston Martin V12 Vantage S:
Rivals include the Audi R8 5.2, Ferrari 458 and F12berlinetta, McLaren MP4-12C, and Mercedes-Benz SLS AMG.