Pros:
The 2014 Aston Martin Vanquish Volante is a new luxury convertible that sits at the top of the British automaker's sports car lineup. World-class power, style and craftsmanship combine with a power retractable, lightweight fabric top for a unique motoring experience. It's the fastest and stiffest Volante ever made, and the first with a full carbon fibre body (at 1,844 kg, this drop-top is just 9 kg heavier than the coupe). The roof folds away in 14 seconds only at speeds of up to 50 km/h. Aston Martin also offers plenty of body colours and customization options.
Cons:
There are faster cars in its price range, and cheaper cars in its power range. The rear seats in this 2+2 convertible are useless.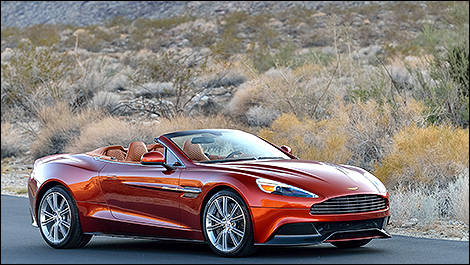 Photo: Aston Martin
2014 Aston Martin Vanquish Volante Price:
The exact Canadian MSRP hasn't been disclosed, but customers should expect to pay upwards of $300,000.
2014 Aston Martin Vanquish Volante Fuel Economy:
Official ratings for the Vanquish Volante are unavailable at this point, but they should be pretty similar to the coupe's -- 10.7L/100km on the highway and 16.2L/100km in the city.
Improvements and Changes:
This is an all-new model based on the Vanquish coupe.
2014 Aston Martin Vanquish Volante Powertrain:
A front mid-mounted, 6.0L V12 engine produces 565 horsepower and 457 lb-ft of torque. Power is fed to the rear wheels via a 6-speed Touchtronic 2 sequential transmission with paddle shifters. A limited slip differential comes standard, helping transfer power to the road more effectively.
The 2014 Vanquish Volante will cover the 0-100 km/h sprint in just 4.1 seconds, and keep accelerating until it reaches a top speed of 295 km/h.
Cargo Capacity :
Seriously? You have to ask? All you need to know is that the trunk is more than 50% larger than the outgoing DBS Volante's with the roof up or down.
Safety:
ABS, dynamic stability control with track mode, positive torque control, traction control, and launch control are all part of the package. Side curtain airbags mounted discreetly on the upper door trim combine with driver and rear passenger airbags. Aston Martin's advanced Rollover Protection System deploys hidden spikes from behind both rear headrests, removing the tonneau trim cover and shattering the rear screen to provide protection for driver and passengers in the event of an accident.
Comparing the 2014 Aston Martin Vanquish Volante:
Rivals include the Audi R8 5.2 Spyder, BMW M6 Cabriolet, Ferrari California T, Jaguar XKR-S, Maserati GranCabrio MC, McLaren MP4-12C Spider, and Mercedes-Benz SLS AMG Roadster.