Pros:
A distinctive, coupe-like silhouette that integrates a rear hatch for easier access to the trunk, numerous gadgets and technologies, high levels of comfort and interior refinement, the legendary quattro all-wheel drive system, and a fuel-efficient TDI engine are definite draws with the 2014 Audi A7.
Cons:
The lack of rear-seat kneeroom and headroom, a firm ride with the optional 20'' wheels, and a premium gas requirement may curb a potential buyer's enthusiasm.
2014 Audi A7 Price:
The lineup includes two trim levels: Progressiv and Technik. The first one starts at $70,400; the second retails from $75,800. The TDI option boosts prices by $2,500 respectively.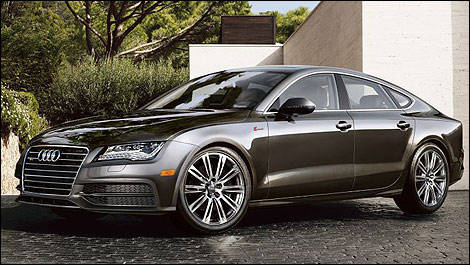 Photo: Audi
2014 Audi A7 Fuel Economy:
First, you should know that a start-stop system can help you save energy and thus reduce CO2 emissions. The 2014 Audi A7 burns 11.6L/100km in the city and 7.4L/100km on the highway. With the new TDI, however, these ratings drop to 8.5L/100km and 5.3L/100km, respectively.
Improvements and Changes:
The Audi A7's nomenclature has changed for 2014, and prices are slightly up. Of course, the biggest news is the 3.0L, direct-injected turbodiesel (TDI) V6 that provides heaps of torque and, more importantly perhaps, big fuel savings.
Powertrain:
The 2014 Audi A7 is motivated by a standard 3.0L supercharged TFSI V6 that produces 310 horsepower and 325 lb-ft of torque. The alternative is the aforementioned TDI unit, which generates 240 horsepower and 428 lb-ft of torque.
In normal situations, the quattro system has a 40/60 bias; when the front wheels start to slip, it can send as much as 70% of the available torque to the front axle.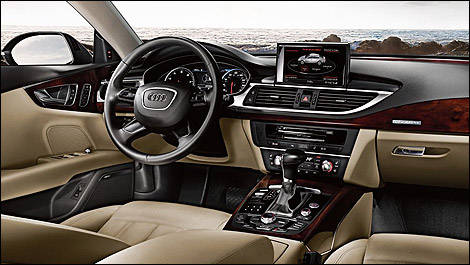 Photo: Audi
Cargo Capacity:
Thanks to the 60/40 split-folding rear seats, the trunk can expand from 694 to 1,390 litres -- enough for skis, golf clubs, luggage, and more.
Safety:
In addition to standard features like six airbags and electronic stability program, the 2014 Audi A7 can be equipped with rear side airbags, adaptive cruise control, side assist (blind spot monitoring), and active lane assist (which helps the car stay in its lane). Other options such as LED headlights and a night vision system improve visibility.
Comparing the 2014 Audi A7:
The main rivals of the A7 are the Mercedes-Benz CLS, Porsche Panamera, as well as the BMW 5 Series Gran Turismo and 6 Series Gran Coupe. Don't miss our 4-door luxury coupe comparison!