Pros:
The 2014 Bentley Mulsanne is an ultra-high luxury sedan that's all about style, sophistication, and smoothness. It boasts unique, hand-crafted build quality, a supreme degree of customization, and some of the universe's most exquisite materials. Tons of room and power are part of the mix, too.
Cons:
This car's pretty expensive, even by luxury standards. Its sheer size (over 18' long) and weight (nearly 6,000 lbs) require care and patience when driving in tight spots. The V8 engine won't snap your neck upon takeoff, but it will suck your wallet dry at the pumps.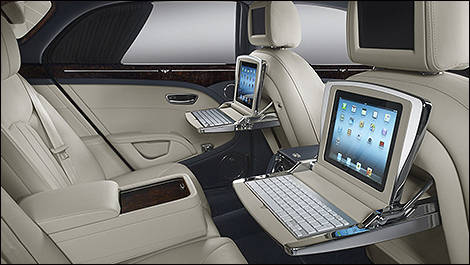 Photo: Bentley
2014 Bentley Mulsanne Price:
The Mulsanne costs more than $350,000 in Canada. Contact your local dealer for detailed pricing.
2014 Bentley Mulsanne Fuel Economy:
The official ratings for the Mulsanne are 20.3L/100km in the city and 12.7L/100km on the highway. In the real world, though, you can expect to burn a bit more than that.
Improvements and Changes:
For 2014, the Bentley Mulsanne comes with new paint colours including Damson, Dark Cashmere, and Portofino, and new interior hides such as Damson, Saffron, and Brunel. Comfort Specification receives "airline" style headrests, new footrests and cushions. There's also a new optional Entertainment Specification that includes twin power-folding picnic tables with concealed iPad holders, integrated charging and dedicated space for Apple wireless keyboards, Naim Audio, a rear-seat entertainment system, and a wi-fi hotspot.
2014 Bentley Mulsanne Powertrain:
Bentley's time-tested 6.75L V8 engine keeps on going after another round of modifications. Force-fed by two turbochargers, the engine develops 505 hp, a stump-pulling 752 lb-ft of torque, and redlines at just 4,500 rpm. The 0-100 km/h dash takes 5.3 seconds and, believe it or not, this mastodon can reach 296 km/h.
The V8 also features modern technology such as cylinder deactivation and camshaft phasing, while being managed by an 8-speed automatic transmission with steering wheel-mounted paddle shifters. Unlike the Continental models, the Mulsanne has rear-wheel drive.
Don't miss:
New privacy curtains, electrically deployable and fully integrated into the rear doors and seat surround, give the rear passenger quarters a feeling of opulence and complete privacy from the outside world.
Safety:
The 2014 Bentley Mulsanne is built like a luxurious tank and comes standard with a full suite of airbags and electronic nannies including front, side, and curtain airbags, as well as anti-lock brakes, traction and stability control. Occupants literally feel invincible inside this car.
Comparing the 2014 Bentley Mulsanne:
The Rolls-Royce Wraith is arguably the Mulsanne's only direct competitor. The Audi A8 L W12 and Mercedes-Benz S 63 AMG are some of the cheaper alternatives.