Pros:
If you want to own what's arguably the fastest station wagon on the planet, you've come to the right place. The Cadillac CTS-V Sport Wagon packs the model's acclaimed flexibility, space and luxury features with a potent dose of supercharged performance, American style. Look for numerous luxury and convenience features, plenty of cargo room, and a full suite of safety systems, alongside a massive performance punch from under the hood. A full selection of track-validated chassis upgrades are included, too.
Cons:
Given the CTS-V Sport Wagon's performance intentions, it's not a model for every shopper. Expect higher-than-average fuel consumption and speeding-ticket likeliness in exchange for this rocket-wagon's capabilities.
2014 Cadillac CTS Sport Wagon Pricing:
Look for pricing form $48,065 before incentives to open the bidding on a 2014 Cadillac CTS Sport Wagon in Luxury trim grade, with $51,995 and $60,185 starting the Performance and Premium grades, respectively. Numerous options and packages can be added to each for further customization.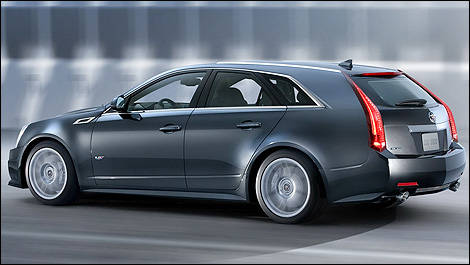 Photo: Cadillac
2014 Cadillac CTS-V Sport Wagon Fuel Economy:
Opt for the 6-speed manual transmission, and you'll average a combined 13.1L/100km in fuel consumption. With the automatic gearbox, that figure climbs to 14.8L/100km. Premium fuel is required.
Improvements and Changes:
As a carry-over model, not much is new with the 2014 CTS-V Sport Wagon other than its colour palette, which has been updated to offer Phantom Grey Metallic, Mocha Steel Metallic, Red Obsession Tintcoat, and Majestic Plum Metallic.
Don't Miss:
The suite of technical and performance elements installed to complement the powertrain on all CTS-V Sport Wagon models. Included are a Magnetic Ride Control suspension system, Brembo brakes and Michelin Pilot Sport PS2 performance tires wrapped around 19" forged aluminum wheels. All models also get a unique grille that doubles front-end airflow to meet the demands of high-performance breathing.
2014 Cadillac CTS-V Sport Wagon Powertrain:
All CTS-V models get the most potent engine ever created in Cadillac's 106-year history. A supercharged 6.2L V8, known internally as the LSA, is based on GM's legendary small-block V8 architecture and features an intercooled supercharger, aluminum-alloy cylinder heads and numerous modifications to make power as quietly and smoothly as possible. The engine has a distinctive sound thanks in part to the supercharger, though it's ultimately engineered for a refined driving experience. A 6-speed transmission is available in the driver's choice of manual or automatic, and all units are rear-wheel drive.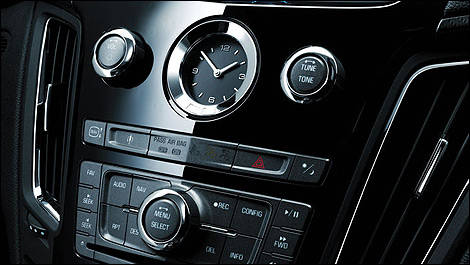 Photo: Cadillac
Safety:
Advanced airbags, stability control, and an advanced, high-tech braking system support drivers in maintaining optimal control at all times. The Performance Traction Management System helps keep engine output in check against current traction conditions, too. The award-winning OnStar system, xenon lights, and distraction-busting Bluetooth technology further enhance safety.
Comparables:
Compare the CTS-V Sport Wagon to machinery like the Audi S7 and RS7, and the
Mercedes-Benz E 63 AMG Wagon
.