2014 Ford F-150 Tremor: What's new?
The Ford Tremor is the first 2014 F-150 model to appear using the updates set forth by the 2013 truck such as headlights as part of a revised front fascia.
The 2014 Ford Tremor adds HID headlamps that match up nicely with the FX Appearance Package with flat-black accents that include sporty and handsome 20" wheels.
Like the first generation
SVT Lightning
, the 2014 Ford Tremor is built on the F-150's regular cab, and short-wheelbase chassis in the name of dealing with less weight. Translation: More performance.


Interior of the 2014 Ford F-150 Tremor
The 2014 Tremor's interior is unique in a number of ways: It features the only flow-through centre console and bucket seats in a regular cab Ford F-150. A floor-mounted shifter is also part of the package.
Other distinctive touches include brushed metal and red accents (namely on the seats and steering wheel) to go along with the leather and alcantara covered seats.
As with all Ford products, a plethora of connectivity amenities will be available in the 2014 Ford Tremor. MyFordTouch will be standard and smartly adapted for truckers who may be wearing gloves.
2014 Ford F-150 Tremor powertrain
This 2014 Ford Tremor may be the performance version, but all-out fuel economy is still a consideration for this performance-oriented pickup truck.
What better way to ensure both than by dropping in Ford's venerable and highly touted turbocharged 3.5L EcoBoost V6? Punching out 365 hp at 5,000 rpm and 420 lb-ft of torque at 2,500 rpm, the Tremor will boogie.
A key element in the 2014 Ford Tremor's off-the-line performance will be the presence of a "launch-optimized" (Ford's words) rear electronic locking differential with 4.10 gearing. The only available transmission is Ford's 6R80 6-speed automatic.
The 2014 Ford F-150 Tremor will be offered as either a 4X2 or a 4X4.
In short
Although the 2014 Ford F-150 Tremor is the spiritual revival of the fabled SVT Lightning, it will not replace it as the rarest and most desirable of editions. It will be the source of many a smoke show and drag race against other would-be performance pickups.
Fuel economy
As a 4X2, the Tremor is expected to manage 16 mpg city and 22 mpg highway or 14.7L and 11.7L respectively.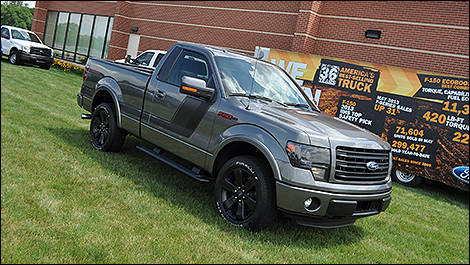 Photo: Mathieu St-Pierre