Pros:
The 2014 Ford F-250 represents the entry point to the Blue Oval's Super Duty lineup. It's a mean, rugged truck with a more imposing physique and front grille than the standard F-150, not to mention amazing capabilities. Yet, climb inside and you'll feel like in a luxury sedan.
Cons:
Watch out for the various options that could significantly increase the price of the F-250. Despite commendable efforts by Ford engineers, fuel economy remains unimpressive. Finally, ride quality is affected when the cargo box is empty.
2014 Ford F-250 Price:
There are five trim levels to choose from this year including XL ($36,149), XLT ($40,849), Lariat ($52,649), King Ranch ($61,919), and Platinum ($65,949).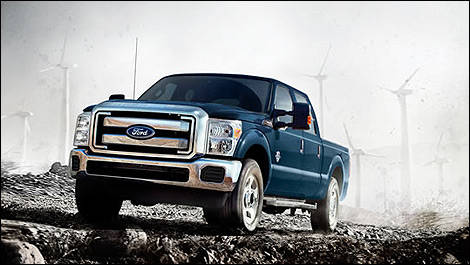 Photo: Ford
2014 Ford F-250 Fuel Economy:
Official ratings for the 2014 F-250 have yet to be released. However, don't expect miracles from this workhorse.
Improvements and Changes:
Ford has improved the braking system for 2014.
2014 Ford F-250 Powertrain:
F-250 buyers have a choice of two engines, starting with a 6.2L SOHC V8 that produces up to 385 horsepower and 405 lb-ft of torque. The alternative is a 6.7L turbodiesel V8 whose 400 horsepower are backed by 800 lb-ft of torque at just 1,600 rpm. Both engines are mated to a 6-speed automatic transmission with manual mode.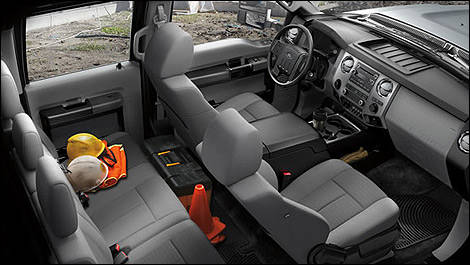 Photo: Ford
Capacities:
A properly equipped Ford F-250 can tow heavy loads of 5,670-7,938 kilos depending on the trim and powertrain.
Safety:
The 2014 Ford F-250 comes standard with ABS, brake assist, electronic brake force distribution, traction control, stability control, and trailer sway control.
Comparing the 2014 Ford F-250:
In the heavy-duty pickup truck segment, the F-250 goes up against the Chevrolet Silverado 2500HD, GMC Sierra 2500HD, and Ram 2500.