Pros:
The EcoBoost-powered 2014 Ford Fiesta ST sprints from 0-100 km/h in less than 7.0 seconds. It's a hot little hatch you can easily afford, with performance levels that can put a MINI to shame. Comfort and functionality are also part of the package.
Cons:
Rear-seat access is tight. A few compromises were made inside to keep the price as low as possible. Speaking of which, watch out for all these attractive options that could significantly increase the total.
2014 Ford Fiesta ST Price:
This high-performance variant of the Fiesta can be yours for $24,999.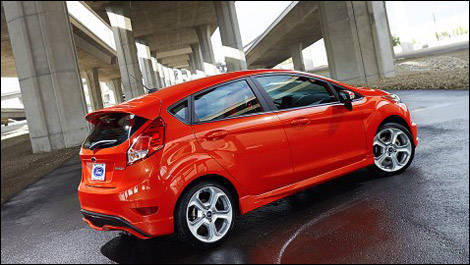 Photo: Ford
2014 Ford Fiesta ST Fuel Economy:
The official ratings for the Fiesta ST are 7.8/5.6L/100km (city/highway).
Improvements and Changes:
A few cosmetic upgrades make the 2014 Ford Fiesta ST look even hotter.
2014 Ford Fiesta ST Powertrain:
Under the hood is a 1.6L 4-cylinder turbocharged EcoBoost engine that produces 182 horsepower. However, with the overboost function, you can temporarily benefit from 197 horsepower. A 6-speed manual transmission connects to the front wheels.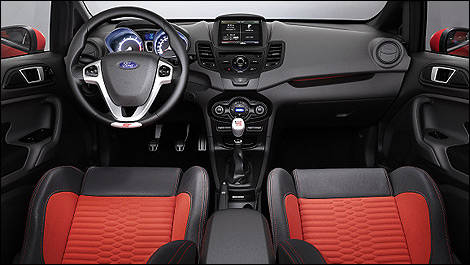 Photo: Ford
Cargo Capacity:
There are just 286 litres at your disposal behind the rear seats of the Fiesta ST, although you can fold the seats to increase capacity.
Safety:
Seven airbags come standard with the 2014 Ford Fiesta ST, along with AdvanceTrac stability control, traction control, hill-start assist, ABS, and brake assist. A post-crash alert system is fitted, too.
Comparing the 2014 Ford Fiesta ST:
Interested in buying a Fiesta ST? First, check out some alternatives like the Fiat 500 Abarth and MINI Cooper S.