Pros:
The 2014 Infiniti Q70 Hybrid is a premium midsize sedan with elegant styling full of sensual lines. It also offers a comfortable, classy, and convenient interior with modern flair. On the road, this car delivers balanced handling and excellent fuel economy.
Cons:
The Q70's high level of athleticism comes at the price of a stiff ride. Unlike non-hybrid models, this one uses rear-wheel drive instead of all-wheel drive.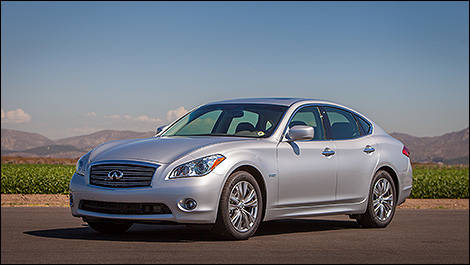 Photo: Infiniti
2014 Infiniti Q70 Hybrid Price:
There's just a single trim level on the menu, and it starts at $68,500, which represents an $8,400 premium over the regular Q70. Standard features include climate-controlled front seats, an Infiniti hard drive navigation system with 8" display, and a Bose Studio Surround sound system with 16 speakers. There are no packages available.
2014 Infiniti Q70 Hybrid Fuel Economy:
The official fuel consumption ratings for the Q70 Hybrid are 6.1L/100km on the highway and 7.5L/100km in the city.
Improvements and Changes:
The 2014 Q70 Hybrid is the sedan formerly known as M Hybrid. However, there are no significant changes to the car itself.
2014 Infiniti Q70 Hybrid Powertrain:
With the innovation of the Infiniti Direct Response Hybrid system, the Q70 Hybrid is able to deliver the power of a V8 with the fuel economy of a 4-cylinder engine. More specifically, a 3.5L V6 and electric motor team up to generate a combined 350 horsepower. Naturally, the lithium-ion battery can be charged on the go through regenerative braking. A 7-speed automatic transmission with manual mode is part of the equation, as well.
Cargo Capacity:
The trunk in the Q70 Hybrid can fit 319 litres of cargo vs. the Q70's 422 litres.
Safety:
The 2014 Infiniti Q70 Hybrid comes with six airbags, ABS brakes, brake assist, as well as stability and traction control systems. The Intelligent Cruise Control slows your vehicle as traffic slows to help maintain a safe distance, then accelerates to your preset speed and distance as traffic flow increases, while Distance Control Assist intuitively helps you release the throttle and subtly applies the brakes as needed in slowing traffic.
Several other advanced systems actively enhance occupant protection including Lane Departure Warning and Prevention, Forward Collision Warning, Intelligent Brake Assist, and Blind Spot Intervention.
Comparing the 2014 Infiniti Q70 Hybrid:
Are you looking for a premium midsize sedan that will save you money at the pumps? Consider some alternatives like the BMW ActiveHybrid 5 and Lexus GS 450h, as well as the diesel-powered Audi A6 TDI and Mercedes-Benz E 250 BlueTEC.