Pros:
The ultimate expression of performance, design, and style from Mercedes' performance division, AMG, the SLS AMG GT packs conquering power, acceleration, braking, and handling into a striking package that's available as a two-door coupe with gull-wing doors or as a convertible. The 2014 Mercedes SLS AMG GT is an incredibly serious performance machine for a lucky handful of folks who can afford to own one. Lightweight engineering and an entirely AMG-designed platform contribute to ultimate performance, and the cabin features luxurious touches expected of the brand.
Cons:
With a starting price in real-estate territory, just two seats, and the lack of an available manual transmission, the SLS AMG GT isn't for every shopper. Cars at even a half of the SLS AMG GT's price open the door on a wide range of world-class attributes.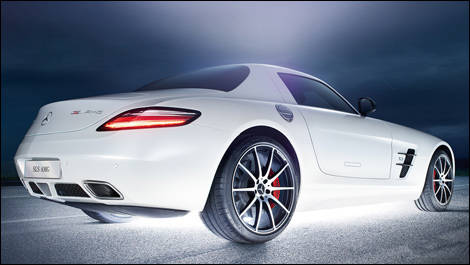 Photo: Mercedes
2014 Mercedes SLS AMG GT Pricing:
This range-topping model commands a starting price of $217,900, with numerous options allowing that figure escalate. Options include the design STYLE package, an extended Carbon fibre interior trim kit, and more. Shoppers can even add a $6,000 carbon-fibre engine cover, a $7,000 stereo system from Bang & Olufsen, and a $14,000 Carbon Ceramic braking system.
2014 Mercedes SLS AMG GT Fuel Economy:
The rip-snorting SLS AMG GT isn't a fuel miser, but its combined consumption rating of 13.8L /100km is on par with many family crossover models -- despite packing considerably more power output.
Improvements and Changes: No major changes are announced for this final year of the SLS, other than the introduction of a FINAL EDITION model that hits dealers this March and gives shoppers one last chance to own an SLS. The special edition model will come in the AMG GT's coupe and convertible variants, and features exclusive visual treatments, wheels, and tires.
Don't Miss:
The menacing exhaust note. At full throttle, the SLS AMG GT positively blasts the world around it with an exotic, crackling bark that turns heads and strikes fear into the hearts of lesser performance cars.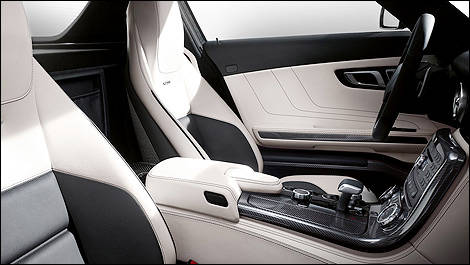 Photo: Mercedes
2014 Mercedes SLS AMG GT Powertrain:
All SLS AMG GT models pack a hand-built, all-aluminum 6.2L V8 engine that's capable of nearly 600 horsepower. Durability and weight-reduction enhancements make this engine absolutely race ready, while a full revision of the camshafts, exhaust system, and manifolds enables a free-breathing performance increase.
The engine runs an 11.3 to 1 compression ratio for optimal thermal efficiency, and comes teamed with an AMG-exclusive SPEEDSHIFT DCT 7-speed transmission. This semi-automatic gearbox is bolted between the rear wheels to which it delivers power, and lightning-fast, paddle-activated gear shifts work towards 0-100 km/h sprints in well under 4 seconds.
Safety:
For maximum safety, all SLS AMG GT models get eight airbags, a full range of driver-assist and stability-assist systems, traction control, self-drying brakes, and Brake Assist. In certain conditions, the AMG GT's high-performance braking system even pre-primes itself for faster activation and shorter stops.
Comparables:
The 2014 Mercedes SLS AMG GT competes largely with models like the Porsche 911 Turbo S, Lamborghini Gallardo, Maserati Granturismo Sport, and others.