Pros:
Since its reintroduction to the automotive world in 2002, the MINI Cooper has been loved for its quirky styling and go-kart-like handling abilities. Unique looks and a great personality behind the wheel ensure the MINI's continued to be a popular model over the years.
Cons:
Since BMW took over the brand and launched the new MINI in 2002, the price of the little hatch has reflected the German influence. Considered a premium brand, the higher-priced MINIs offer up little in terms of cargo space and passenger room. However, models like the Countryman and Clubman serve to address those issues along the way.
2014 MINI Cooper Price:
Pricing has not yet been announced for the 2014 MINI Cooper and Cooper S models, however, should be available mid-February of 2014.
2014 MINI Cooper Fuel Economy:
Fuel economy numbers are as of yet unknown in the 2014 MINI Cooper and Cooper S models.
Improvements and Changes:
Some would say there was very little to improve and change in the MINI Cooper models and that if it ain't broke, don't fix it. Well, MINI didn't "fix" anything per se, but they did update an already well-loved machine to make it that much more appealing. On the outside, the new original MINIs (as they are being dubbed) have grown in size and length, but not by much. Wider and longer, the new original MINIs have a more grown-up exterior look. LED headlamps are optional as are LED fog lights, and the rear lights come as LED units. Inside, the much-talked-about centre-mounted speedometer now has a home behind the steering wheel, while MINI's HMI takes precedent over the centre display. A bright red toggle switch is now the ignition "key" and key insertion is no longer necessary. The most interesting change in the 2014 MINI Cooper lineup is, of course, the introduction of two new turbo engines across the board.
Powertrain:
That's right, whether you order yourself a base MINI Cooper or the sportier MINI Cooper S, you'll get MINI's twin-scroll TwinPower Turbo Technology. In base trim (MINI Cooper), you'll now get a 3-cylinder turbocharged engine good for 134 horsepower and 162 lb-ft of torque. Slap an "S" on the back and you get MINI's new 4-cyl turbocharged mill that'll push out 189 horsepower and 207 lb-ft of torque. Both Cooper and Cooper S have a choice of updated, optimized transmissions: 6-speed manual or 6-speed automatic. Power is, as always, sent to the front wheels.
Cargo Capacity:
The new original MINI Cooper's cargo capacity jumps from 160 litres to 211 for the 2014 model (with the rear seats up). Flip those rear seats down and the cargo room jumps to 1,076 litres (up from the previous gen's 680 litres).
Safety:
As in the previous model, the 2014 MINI Cooper and Cooper S come equipped with a host of safety features including ABS, brake standby, drying and fade support, as well as cornering brake control (CBC) and Dynamic Stability Control (DTC); eight airbags, SMART Airbag Deployment, Advanced Head Protection System (AHPS); crash sensor, fuel pump cutoff, and runflat tires.

Comparing the 2014 MINI Cooper and Cooper S:
The MINI Cooper has always kind of been in a category all its own, but the
Volkswagen Golf
,
Fiat 500
and
Ford Fiesta
stack up well against it.
2014 MINI Cooper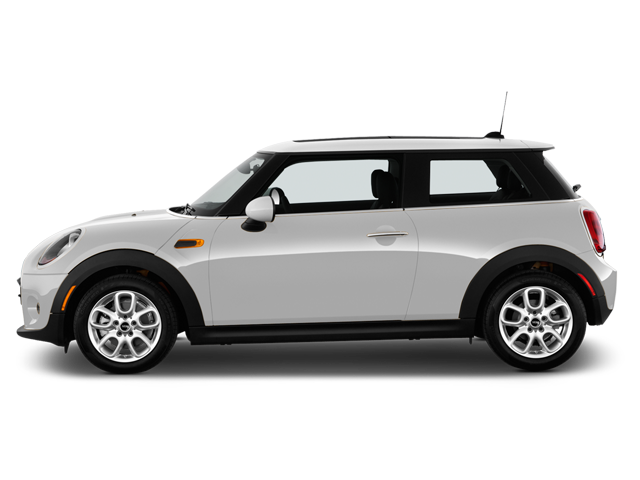 2014 Porsche Boxster S