To compete with the likes of the Honda CR-V, Subaru Outback, Hyundai Santa Fe,
Ford Escape
, Toyota RAV4, and other compact crossovers, Mitsubishi has recently released the latest, third-generation iteration of their Outlander Crossover. Selection is plentiful, and the tested ES AWC represented a basic model with 4-cylinder power and All-Wheel Control (AWC) All-Wheel Drive (AWD).
What is a Mitsubishi Outlander ES AWC?
The new Mitsubishi Outlander is a crossover SUV, and like virtually all of its competition it offers 5- or 7-passenger seating, 4- or 6-cylinder power and 2- or 4-wheel drive bolted to the floor-pan beneath all of the above.
The spec and pricing sheets of Outlander and its market-mates are incredibly similar, though a top-notch powertrain, fantastic warranty and slick, driver-controllable AWD system help set Mitsubishi's entry to this over-crowded scene apart.
2014 Mitsubishi Outlander ES AWC Price and Specs
The Outlander ES 2WD starts the bidding at $25,998, with the AWC-equipped ES-grade tester coming in at $27,998. The SE AWC packs more high-end, must-have feature content from $30,998 with a standard V6; and the top-line GT S-AWC, with several sporty enhancements and even more feature content, comes in at $35,998.
Driving the 2014 Mitsubishi Outlander ES AWC
The Outlander's standard 2.4L, 166 horsepower 4-cylinder was fitted, employing Mitsubishi's fancy-pants MIVEC valve-timing system for active control of engine breathing in real time. By manipulating the valves, MIVEC works to ensure good mileage when drivers cruise gently, and lots of low-end pull when acceleration is requested.
That's attached to a Continually Variable Transmission or CVT which features a recent overhaul to its inside bits for improved smoothness and mileage, too.
With no pre-set, stepped gears, drivers get smooth, endless power with no pauses to shift. The CVT fully capitalizes on the engine's low-end torque, locking into a steady rpm as drivers accelerate, rather than revving up endlessly. The CVT and MIVEC systems work off each other's capabilities -- the transmission enabling low and locked-in revs while the valve timing system optimizes low-end torque. So, drivers can accelerate from a standstill up to perhaps 90 km/h in near silence with no more than 2,000 rpm on the dial.
In all, it's a refined powertrain that works well when it comes to making the best use of available power, delivering that power very smoothly, and perhaps performing a bit better, and more quietly, than you'd expect.
The Four Wheel Drive system -- which Mitsubishi calls "All Wheel Control" or AWC -- offers a large 4WD button for calling up several modes that cater to the conditions at hand. Drivers can toggle between standard fully automatic operation, a lock mode for added pre-emptive traction, and a 4WD E calibration that only engages the rear wheels for the greasiest of conditions to help save fuel.
My test mileage landed at an impressive 10L/100km, which is among the best mileage I've yet recorded in a crossover. So, the technology works.
Where ride quality and handling are concerned, the tester proved largely comfortable and slightly sporty, with a hint of agile tautness dialed in. Ride quality only deteriorates significantly on the roughest roads or off-road trails, and the suspension gets all noisy-sounding here too, even if it maintains a solid feel. But, most of the time, the 2014 Mitsubishi Outlander should prove adequately comfortable and laid-back, even for long distances.
Ground clearance should be sufficient for handling of light to moderate off-road work with confidence, and I noted no issue finding grip on two separate jaunts down sloppy, rutted trails.
Inside and Out of the 2014 Mitsubishi Outlander ES AWC
The Outlander's new cabin might be a little short on colour, but it's trimmed nicely, roomy in all of the right areas, easy to access and exit, and easy to see out of. Passengers appreciated the generously sized rear seats that recline if you're feeling nappy, and noise levels are kept low enough for first and second-row occupants to converse without yelling, even beyond the speed limit.
Your writer most appreciated the generous cargo hold in back, which offered up plenty of space for a load of shopping from my favourite place in the universe (IKEA). Plus, a deep storage bin beneath the floor provides additional opportunity for keeping your stuff organized and out of sight, if you don't opt for the third-row seats. Sadly, Mitsu has axed the handy spilt-opening tailgate from the last-generation machine.
Complaints? Styling largely plays it safe and likely won't knock anyone's socks off, and the tailgate doesn't open high enough -- if you're much taller than about 5'11 you could take some sheetmetal to the melon.
Comparing the 2014 Mitsubishi Outlander ES AWC
The stand-out reason to check the Outlander out will be the real-world fuel mileage, very slick and refined powertrain, and the added degree of control offered by the various four-wheel drive system modes. For the family-minded shopper, the 2014 Outlander's qualifications read like a wish-list for all things sensible: including a tricky new IIHS "Top Safety Pick +" rating and a 10-year or 160,000km powertrain warranty. Other recommended test drives from the segment include the Honda CR-V,
Dodge Journey
, and
Subaru Outback
.
2014 Mitsubishi Outlander ES AWC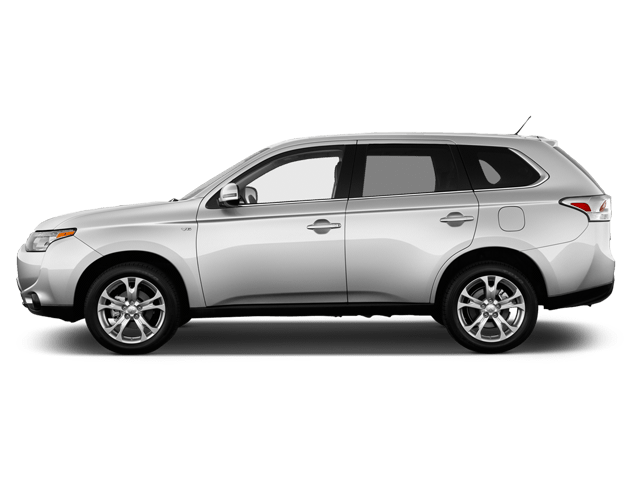 2014 Mitsubishi Outlander ES AWC