Pros:
In the Scion FR-S, rear-drive dynamics draw out the simple, raw satisfaction that comes from operating a pure sports car. The shifter and clutch combo is meaty, holds lots of power, and has plenty of bite. The FR-S is thrilling to put through its paces and relatively comfortable on most highways, too. It's also very easy on fuel, packs crowd-gathering styling, and is arguably the ultimate driver's car in this price range.
Cons:
A small trunk opening, and tight entry and exit for larger folks are among the Scion FR-S' cons. Further, no sunroof, covered storage console nor armrest are available, and knee-room can be tight for leggier drivers.
2014 Scion FR-S Pricing:
For 2014, the FR-S is priced from $26,450, although a range of options are available to fine-tune the sports model to any driver's tastes. Further, Scion offers numerous dealer-installed accessory parts for further customization.
2014 Scion FR-S Fuel Economy:
The Scion FR-S should put away between 7.2L and 8.2L of fuel in combined highway and city driving, depending on the transmission selected. The automatic 6-speed unit earns the lowest fuel consumption rating.
Improvements and Changes:
Improvements on this new model are minor for 2014. Designers created a new upgraded stereo system display, and added knee padding to either side of the transmission tunnel to address a common complaint of last-year's model.
Don't Miss:
The sports-car-first platform. Arguably, the Scion FR-S is the only machine in its class that was engineered to be a sports car from square one. Unlike other machines that simply add performance parts to a bread-and-butter commuter model, the FR-S' lightweight, compact, and performance-engineered architecture is fitting of a pure sports car -- and that shows in the driving experience. Plus, since it's got perfect 50/50 weight dsitribution, the FR-S is one of the best handling cars anywhere near its price range.
2014 Scion FR-S Powertrain:
A Subaru-derived 2.0L BOXER 4-cylinder engine dubbed "D4S" is bolted low and wide in the bottom of the engine compartment to lower the centre of gravity and make for better handling. With 200 horsepower and a redline well over 7,000 rpm, it's thrilling to drive hard. Simultaneously, direct injection and variable cam timing, as well as lightweight aluminum construction, keep fuel consumption to a minimum.
Safety:
The FR-S protects its drivers and passengers by way of a highly advanced traction and throttle control system, which includes driver-selectable modes for standard, sport or snow operation. Toyota's STAR safety system is also on board, networking six must-have safety technologies into a standard, confidence-inspiring package. Tire pressure monitoring, a distraction-reducing Bluetooth interface, and whiplash-reducing seat structures are included as well.
Comparables:
Check the thrifty and agile FR-S out alongside models like the
Mazda MX-5
,
Hyundai Genesis Coupe
,
Subaru BR-Z
, Ford Mustang, and others.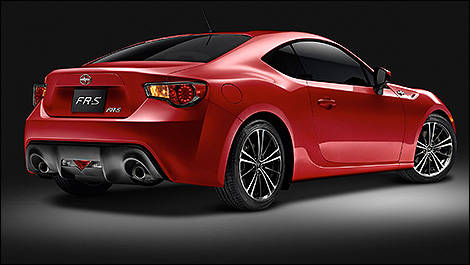 Photo: Scion
2014 Scion FR-S