Hyundai knowingly or not planted a seed in young minds in the late nineties when they launched the
Tiburon
. Only a few years earlier, a company called EA introduced a driving game you may have heard of: The Need for Speed. This game created a frenzy.
Over subsequent years, the majority of sporty coupes like the
Toyota Celica
and
Acura Integra
and RSX packed it in, but one of the few that remained behind was the Tiburon. The game progressed and became a massive worldwide hit but most mid-range car manufacturers had dropped out of the sporty coupe race. Who was to feed the frenzy?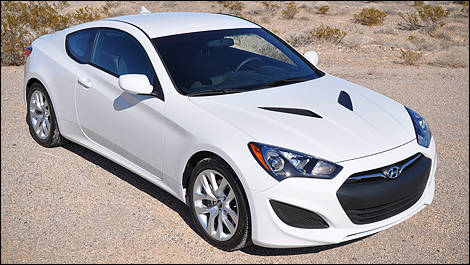 The new 2013 Hyundai Genesis Coupe is the new bar by which any sporty car should be measured for styling and performance. (Photo: Mathieu St-Pierre/Auto123.com)
All of the young boys and girls that grew up with PlayStation or Xbox controllers between their hands, once able to purchase a new car, especially their dream sporty car, had little or nothing to chose from in the late 2000s. That was, until Hyundai unleashed the Genesis Coupe on the world in early 2009. Here was a car that the "kids" could relate to and its very decent sale numbers of 6,000 units for 2010 and 2011 indicate that there exists a market for this car.
On the Coupe
I was smitten from the onset: I was at the launch of the Genesis Coupe Gen 1. Not necessarily aimed at any coupe in particular but taking them all on at the same time, the Genesis had and has all the attributes to make it desirable. It's racy, low-slung, rear-wheel driven and affordable.
According to Hyundai peeps, the 1st was the brand's first foray into the segment and they started from scratch, literally. The Gen 1 was as good as it was going to get. Now Gen 2 raises the bar.
Styling frenzy
The 2010-11 Hyundai Genesis Coupe made heads turn, enough to capture my brother's attention and get him to race over to a dealership to get his own. This time, the
2013 Hyundai Genesis Coupe
is intent on making heads roll. On the very heels of the very popular Veloster's launch, Hyundai released pictures of the 2013 Gen Coupe's new look and the resemblances are evident. This is purposeful as only a pair of Hyundais lack the make's new corporate face, but they will eventually get it.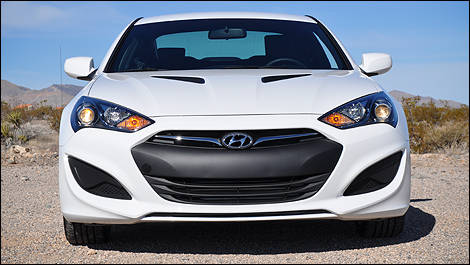 On the very heels of the very popular Veloster's launch, Hyundai released pictures of the 2013 Gen Coupe's new look and the resemblances are evident. (Photo: Mathieu St-Pierre/Auto123.com)