Pros:
A roomy interior, short turning radius, compliant suspension, excellent fuel economy, and quick charging times make the 2014 Toyota Prius Plug-in an ideal city car. 

Cons:
A dated dashboard design and slow throttle response put a damper on the driving experience.

2014 Toyota Prius Plug-in Price:
This model retails for $35,705 before taxes, freight and delivery charges, and provincial rebates -- a difference of nearly $10,000 from the regular Prius ($26,105). The Technology Package requires a premium of $5,235.
2014 Toyota Prius Plug-in Fuel Economy:
The 2014 Toyota Prius Plug-in achieves 3.7L/100km in the city and 4.0L/100km on the highway in hybrid mode, as well as a gasoline equivalent of 2.0L/100km in the city and 1.9L/100km on the highway in EV mode. With a 40L tank, you can cover anywhere between 1,100 and 1,500 kilometres provided that you plug the car in every so often.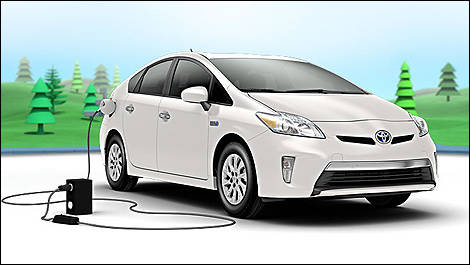 Photo: Toyota
Improvements and Changes:
With the next-generation Toyota Prius already in the works, the 2014 model year brings no changes other than a body colour (Alpine White) being eliminated.
Powertrain:
The 2014 Toyota Prius Plug-in is equipped with an Atkinson-cycle, 1.8L 4-cylinder engine and a high-output electric motor, which together produce 134 horsepower through a continuously variable transmission.

The regular Prius is fitted with a nickel-metal hydride battery, while the Plug-in gets a higher-capacity, lithium-ion unit. Instead of an EV mode range of about 2 kilometres in the regular Prius, the Plug-in model can travel up to 25 kilometres on electric power alone, even at highway speeds.

Plug the car into a 120V household outlet, and you'll charge the battery pack in about three hours. If you hook up to a 240V charging station, a full charge will only take an hour and a half.
Cargo Capacity:
The 2014 Toyota Prius Plug-in can pack up to 612 litres of gear behind the rear seats.
Safety:
Standard features include stability and traction control, disc brakes with ABS, brake assist, and electronic brake force distribution, as well as smart stop technology, which automatically cuts engine power and allows the brakes to take precedence over the accelerator when both pedals are pressed at the same time. Let's not forget the seven airbags and active front head restraints.
Comparing the 2014 Toyota Prius Plug-in:
The Ford Fusion Energi currently poses the biggest threat to the Prius Plug-in. Honda will soon get into the mix with the Accord Plug-in Hybrid.