Latest upgrades
The 2014 Volvo XC60 benefits from a few minor upgrades, including an all-new infotainment system. The headlights, front bumper and grille, as well the exhaust system have also all gone under the knife.
Price
The base Volvo XC60, powered by a normally aspirated 3.2-liter engine, starts at $39,950. Three additional versions round out the lineup: the Premier, at $44,100, the Premier Plus, at $45,700, and the Platinum, which starts at $49,000.
The R-Design version starts at $54,500. Exclusive features include sport suspension and 20-inch wheels, among others. The Premier Plus version starts at $56,100 while the Platinum version starts at $59,400.

Fuel Economy
The 6-cylinder engine consumes 11.2 L/100 km city and 7.8 L/100 km highway. The turbocharged engine is rated at 12.1 L/100 km city and 8.5 L/100 km highway.
Exterior Styling
The front and rear styling of this crossover reinforce its racy image. The aerodynamic shape and high ground clearance underscore its superior all-road capability. The sculpted rear end adds an elegant styling touch.
Drivetrain
A 3.3-liter inline 6-cylinder engine producing 240 hp and 236 lb-ft torque propels the front-wheel drive 2014 Volvo XC60. All-wheel drive aficionados benefit from the turbocharged 3.0-liter inline 6-cylinder engine that delivers 300 hp and 325 lb-ft torque.
Both engines are mated to an adaptive 6-speed Geartronic automatic transmission. The R-Design version turbocharged engine can deliver up to 325 hp.

Cargo Capacity
Different seat configurations offer between 872 and 1909 liters of cargo capacity.
Safety
This sedan is equipped with six airbags, a pedestrian detection system and side impact protection. Options include adaptive cruise control, collision warning with full auto-brake and lane departure warning. Volvo remains an automotive-safety leader.
Comparable Models
Acura RDX
,
Audi Q5
, BMW X3, Infiniti EX35,
Land Rover LR2
, Mercedes-Benz Classe GLK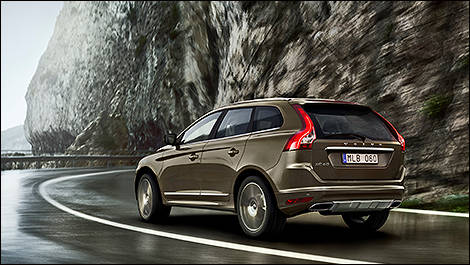 Photo: Volvo
2014 Volvo XC60