Pros:
The competitively priced 2015 Acura ILX proves to be a refined, sporty sedan that's fun to drive, especially when equipped with the Dynamic Package.
Cons:
Acura engineers should probably abandon the 2.0L SOHC engine, which sorely lacks power. Moreover, the Dynamic Package is not available with an automatic transmission. Some people would say the ILX lacks available high-tech features, but then again, it's not exactly a full-fledged luxury sedan.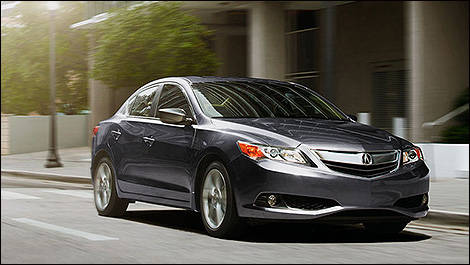 Photo: Acura
2015 Acura ILX Price:
The lineup consists of four trim levels including the base ILX ($27,990), ILX Premium ($30,290), ILX Tech ($32,090), and ILX Dynamic ($32,090).
2015 Acura ILX Fuel Economy:
Based on Natural Resources Canada's new 5-cycle testing procedure to determine fuel consumption ratings, expect to burn an average of 8.3L/100km with the 2.0L engine, and 9.3L/100km with the 2.4L unit.
Improvements and Changes:
The ILX got mixed reviews following its initial launch two years ago. For 2014, Acura responded with a number of improvements in hope of attracting more buyers. This time around, the ILX returns essentially unchanged.
Powertrain:
Two different powertrains can be had with the 2015 Acura ILX. The base, Premium, and Tech models use a 2.0L, SOHC, 4-cylinder engine that produces 150 horsepower and 140 lb-ft of torque through a 5-speed automatic transmission. The ILX Dynamic benefits from a 2.4L, DOHC, 4-cylinder unit rated at 201 horsepower and 170 lb-ft, as well as a close-ratio, 6-speed manual gearbox.
Cargo Capacity:
The 2015 Acura ILX offers up to 348 litres of cargo room in the trunk alone. The rear seats fold down for more versatility.
Safety:
A number of modern safety features protect the occupants of the 2015 Acura ILX. Beyond ABS, brake assist, and electronic brake force distribution, you'll find Vehicle Stability Assist with Traction Control, Hill Start Assist, and six airbags.
Comparing the 2015 Acura ILX:
Looking to buy a compact luxury sedan? There are plenty of alternatives out there including the Audi A3, Buick Verano, Cadillac ATS, Mercedes-Benz CLA, Infiniti Q50, and Lexus IS.