Pros:
The 2015 BMW X1 compact SUV benefits from an impressive engine and transmission duo that is delivered through a very efficient all-wheel drive system. Fuel consumption will most likely drop in this year's version. Handling is a strong point of the BMW X1, especially for an SUV, and the versatility of this vehicle is exemplified by the three-way split rear seat back.
Cons:
The BMW X1 is cramped, especially in the rear. As is the case with many German vehicles, pricing is not one of its strong points, and the addition of too many options only exacerbates the price issue.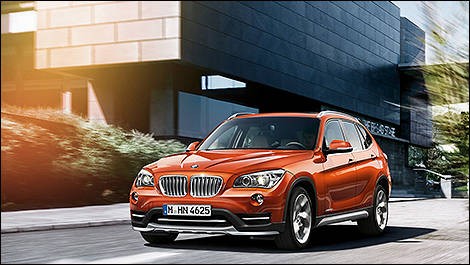 Photo: BMW
2015 BMW X1 Price:
The 2015 X1 SUV compact is available in two versions: the xDrive28i at $36,990 and the xDrive35i at $39,990. Both models offer the xLine and Sport Line packages, which add $1,500 and $1,900 respectively.
2015 BMW X1 Fuel Economy:
The BMW X1 xDrive28i has an estimated combined fuel economy rating of 8.9 L/100 km while the xDrive35i is rated at 11.2 L/100 km.
Improvements and Changes:
As the nest-generation X1 is just around the corner, no major changes have been applied.
2015 BMW X1 Powertrain:
The 2015 xDrive28i is equipped with a DOHC turbocharged 2 litre 4-cylinder engine that delivers 241 hp and 258 lb-ft torque and is hooked-up to an 8-speed automatic transmission. As for the xDrive35i, it is equipped with the venerable inline DOHC turbocharged 3 litre 6-cylinder engine that cranks out 300 hp and 300 lb-ft torque mated to a 6-speed automatic that delivers the power to all four wheels.
Cargo Capacity:
420 or 1350 litres of cargo capacity are available with rear seatback either up or reclined.
Safety:
The 2015 BMW X1 is equipped with several standard safety features including ABS brakes, electronic braking assistance, electronic brake force distribution, electronic stability control, launch control, and hill assist.
Comparing the 2015 BMW X1:
The compact SUV category includes the Acura RDX, Infiniti QX50, the Land Rover LR2, the Mercedes-Benz GLK, the Volkswagen Tiguan 4WD and the Volvo XC60.