PROs:
The 2015 Chevrolet Impala is into its second year of the current generation, having been fully revised just last year. Certainly, the Impala is not lacking in elegance and can now dance with the other belles at the full size sedan Ball. Plus, the Impala offers an interesting choice of engines, impressive comfort and an overall driving experience befitting the 21th century.
CONs:
Generally speaking, unless you opted for the LTZ V6, the Impala is probably a little bit on the heavy side for a 4-cylinder engine. Furthermore, when it comes to the finish, it would behoove Chevrolet to remove those cheap plastics bits'n'pieces found on some models.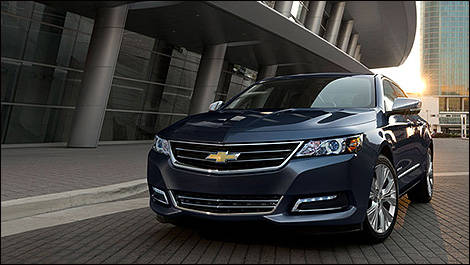 Photo: Chevrolet
2015 Chevrolet Impala Price:
GM is producing three versions of the Chevy Impala for 2015: the LS Ecotec 2.5 – starting at $33,300, the LT V6 starting at $34,895 and the LTZ V6 starting at $41,595.
Fuel Economy:
The LS Ecotec 2.5 has the best fuel efficiency at 9.9 L/100 km in town and 6.3 on the highway. As for both the LT and LTZ V6, the rate comes in at 11.1 L/100 km in town and in 6.9 L/100 km on the highway. If you choose the eAssist option (for the 2.4L 4-cylinder engine and the electric engine), fuel consumption rates improve, but at the time of writing it was not known to what extent.
Improvements and Changes:
Since the Impala is just in its second year of the current generation, only a handful of changes were made. They include fuel-saving stop/start technology with the 2.5L engine, and OnStar now features 4G LTE with a standard built-in Wi-Fi hotspot.
2015 Chevrolet Impala Powertrain:
Under the hood of the 2015 Impala, Chevrolet offers three motorization choices: a 2.5L 4-cylinder engine delivering 196 hp, a 3.6L V6 capable of 305 hp and a 182 hp hybrid, combining a 4-cylinder and electric engine. All these powertrains are matched with an automatic 6-speed transmission.
Cargo Capacity:
All models of the 2015 Chevrolet Impala offer 532L capacity.
Safety:
Regarding safety, the 2015 Chevrolet Impala takes advantage ABS, assisted braking, electronic brakeforce distribution, dynamic stability control, adaptive cruise control, side blind zone alert and imminent collision alert.
Comparing the 2015 Chevrolet Impala:
In this full size sedan category, we find the Buick LaCrosse, Chrysler 300, Dodge Charger, Ford Taurus, Maximum Nissan and Toyota Avalon.