Pros:
The 2015 Ford Fiesta 5-Door Hatch sports a thoroughly modern design both inside and out. It offers an impressive choice of normally-aspirated and turbocharged engines as well as many standard technological goodies. The Fiesta is well-built, and presents quality materials and excellent fuel consumption. Contrary to its sedan sibling, the 5-door hatchback is also available in a souped-up ST version.
Cons:
The 2015 5-door Hatch allows significantly more luggage capacity than the sedan. Be careful when checking-off the options list, as they will quickly inflate the starting price.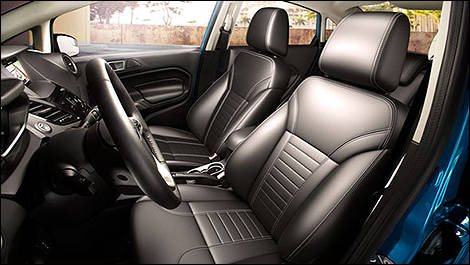 Photo: Ford
2015 Ford Fiesta Price:
For 2015, Ford offers a selection of four different 5-door models, starting with the 5-speed manual Fiesta S Hatch at $14,999, followed by the 5-speed manual SE Hatch at $15,999 and the 6-speed automatic at $17,249. The luxurious 5-speed manual Titanium Hatch starts at $19,849, and climbs to $21,099 for the 6-speed automatic. The sporty ST version, with its 6-speed manual gearbox, retails at $24,599.
2015 Ford Fiesta Fuel Economy:
The 5-door Fiesta Hatch with manual 5-speed transmission has an estimated fuel economy rating of 8.5/6.5 L/100 km (city/highway); the automatic transmission version is rated at 8.7/6.4 L/100 km; as for the ST, fuel economy is rated at 8.9/6.8 L/100 km.
Improvements and Changes:
The 3-cylinder EcoBoost is new for 2015, along with a 5-speed-only transmission option for the base S model.
2015 Ford Fiesta Powertrain:
Ford offers a 1.6 litre normally-aspirated engine that delivers 120 hp and 112 lb-ft of torque in the 2015 5-door Fiesta Hatch, along with an optional all-new turbocharged 123 hp 3-cylinder 148 lb-ft EcoBoost engine for those who want more power. The power output for both engines may be comparable, but the additional torque in the turbocharged 1 litre engine makes a huge difference in performance. Let's not forget the 1.6 litre 4-cylinder turbocharged DOHC EcoBoost engine that delivers 197 hp and 215 lb-ft of torque.
Cargo Capacity:
The luggage compartment of the 5-door Fiesta Hatch in the S, SE and Titanium models allows 423 litres of capacity, while the ST offers 285 litres. 720 litres is available in every model when the rear seat back is lowered.
Safety:
Safety features in the 2015 Ford Fiesta include ABS brakes, electronic braking assistance, electronic brake force distribution, electronic stability control, launch control, imminent crash assistance and hill assist.
Comparing the 2015 Ford Fiesta 5-Door Hatch:
Comparable models in this subcompact 5-door hatchback category include the Honda Fit, the Hyundai Accent, the Kia Rio, and the Nissan Versa.