PROs:
When you're talking about a behemoth 550 hp V8, it becomes earbleedingly obvious that its restrained engine roar is a key quality for those who love this type of car. Plus, it must be said that the 2015 XF is niftily agile despite its hefty weight. And the integrated transmission offered on the V6 version is no stranger to this purring sleekness of the new 2015 Jaguar XF.
CONs:
Certainly (and everyone knows it) a Jaguar, and especially the XFR-S, is not the type of cuddly beast that can be left in the hands of just anyone. Indeed, letting loose 550 horsepower from this rear-wheel-drive throroughbred makes it a risky proposition for winter driving.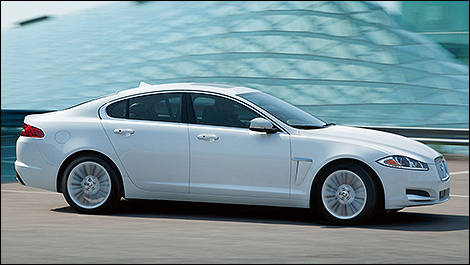 Photo: Jaguar
2015 Jaguar XF Price:
In 2015, Jaguar will be offering the XF in seven different versions: the XF 2.0T at $55,543, the XF 2.0T Luxury at $58,643, the XF 3.0 TI at $63,643, the XF 3.0 TI Luxury at $69,643, the XF 3.0 TI Sport at $71,143, the XF XFR at $90,643 and finally the XF XFR-S at $106,643.
Fuel Economy:
At the time of publication, fuel consumption rates for the 2015 Jaguar XF were unavailable.
Improvements and Changes:
This is a model that gets revised from one year to the next, but we see no major changes for the 2015 version of the XF.
2015 Jaguar XF Powertrain:
Under the hood of the XF, Jaguar is offering four different engines. First, for the XF 2.0T and XF 2.0T Luxury, you get an inline 4-cylinders 2.0L turbocharged DOHC that develops 240 hp. Second, the XF 3.0 TI Luxury and 3.0 TI Sport models feature a DOHC force-induction 3.0L V6 generating 340 hp. Third, a 5.0L V8 supercharged DOHC produces 510 hp for the XF XFR. Fourth, the 5.0L V8 supercharged DOHC produces 550 hp for the top-of-the line XF XFR-S. All engines are coupled with automatic 8-speed transmissions.
Cargo Capacity:
Whether you choose the least expensive or the most expensive, you can take advantage of a 500L trunk capacity.
Safety:
Concerning safety issues, the 2015 Jaguar XF benefits from ABS, brake assist, electronic brake force distribution, electronic stability control, traction control, adaptive cruise control and side blind zone alert.
Comparing the 2015 Jaguar XF:
In this prestigious luxury car category, the Jaguar XF competes with the likes of the Audi A6, BMW Series 5, Mercedes-Benz E-Class and the Cadillac CTS.