Once again this year, Specialty Vehicle Engineering (SVE), based in Toms River, New Jersey, has developed an explosive version of the Chevrolet Camaro. The big differences in relation to the company's 2017 creation are a boost of power and a reduction in availability: the new 2018 Chevrolet Camaro Yenko/SC Stage II will produce 1,000 hp (up from 800) and only 25 units will be built.
The car is based on a 2018 Camaro SS 1LE coupe and is powered by a custom-built and -configured 6.8L LT1 supercharged V8. Torque has been given as 875 lb-ft; no numbers have been announced regarding acceleration and top speed.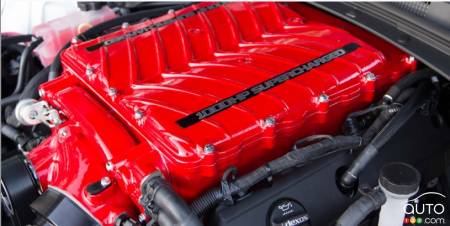 Equipment includes a manual transmission, performance-tuned magnetic ride control suspension (with unique bushings, springs and stabilizer bars), large-capacity cooling system, limited-slip electronic differential and Brembo brakes with 6-piston calipers and 14.5-inch rotors in front (along with 4-piston calipers and 13.3-inch rotors in back), not to mention a front splitter and rear spoiler that increase downforce.
In addition, the 2018 Chevrolet Camaro Yenko/SC Stage II sports 20-inch Torque Thrust wheels and classic Yenko design elements and badging, as well as Recaro performance seats.

SVE acquired the rights to the Yenko name from General Marketing Capital Incorporated. To be clear, the new car has no relation to the famous muscle cars produced by the Yenko Chevrolet dealership in Canonsburg, Pennsylvania, but the fact remains that this ultra-limited supercar will be quite a collection piece!
The company has also produced 825-hp Camaros and Corvettes, and if SUVs and trucks are more your thing, there are 800-hp Cadillac Escalade, GMC Yukon and Chevrolet Silverado versions carrying the SVE signature. Only GM dealerships in the United States and Canada can order SVE models.