As the NAIAS in Detroit was wrapping up and the Montreal Auto Show prepared to open its doors, Ford decided to unveil the revised 2018 Mustang, the most advanced yet. Now, it's the 2018 Ford Mustang Convertible's turn. Both will go on sale across North America this fall (alas not in time for hot summer drives).
Shockingly, the 3.7L V6 engine has been dropped from the lineup. In its place, the 2.3L EcoBoost 4-cylinder engine is said to deliver improved performance using Ford's overboost technology uniquely calibrated for Mustang. Torque is increased for wide-open throttle acceleration.
The legendary 5.0L V8, meanwhile, has been thoroughly reworked. It is more powerful and revs higher than any Mustang GT Convertible before, plus its engine note can be adjusted via the all-new active valve exhaust system (optional).
The standard manual transmission for both engines has been upgraded for optimal torque, while the available new 10-speed automatic transmission has a wide-ratio span and optimized gear spacing, which improves responsiveness and performance. It comes with paddle shifters on the steering wheel.
On all models, a stiffer rear suspension and new shock absorbers make for better ride control. Available MagneRide damper technology optimizes ride and handling in all situations.
In terms of styling, the 2018 Ford Mustang Convertible sports and even leaner and meaner look thanks to a new front and rear design. Three new paint colours and 12 distinct wheel choices are available. Inside, the dashboard can be fitted with a customizable 12" LCD digital instrument cluster featuring Normal, Sport, and Track modes—a Ford first.
Finally, new advanced safety systems like Pre-Collision Assist with pedestrian detection, distance alert, lane-departure warning, lane-keeping assist, and a Driver Alert System are available.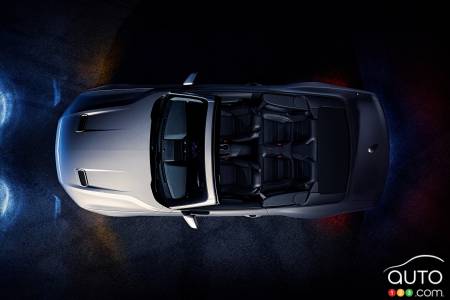 Ford Mustang Shelby Super Snake 50th Anniversary
In related news, the company announced the addition of a Shelby Super Snake 50th Anniversary edition to the coupe lineup.
Priced at $69,995USD and limited to 500 units worldwide, it sprints from 0-100 km/h in about 3.5 seconds and posts a quarter-mile time of 10.9 seconds, aided by a 670-horsepower force-fed V8 engine. Optional superchargers make it possible to increase output up to 750 horsepower.
The hood, rocker panels, spoilers and splitters, grille, fog lights, and rear diffuser are all unique to this special model, which also features numerous "50th Anniversary" details.