Audi has announced details and pricing for its new 2019 A6, and it's clear the company is taking a bold route for its mid-size luxury sedan. Price increases are quite common, even expected, year to year, but the 8-th-gen A6 will be getting a whopper of a price jump, to the tune of some $9,000 USD for the base model south of the border.
Last year's starting price of $47,900 has climbed to $57,900 in the U.S. While we don't yet know Canadian pricing, but we do know that in 2018, the base model of the A6 went for $61,000. If we follow the U.S. precedent for 2019, Canadian consumers can expect to pay over $70,000.
Certainly, the 2019 A6 gives a lot of car for the money. It features the latest technologies in terms of electronic functionalities that enhance the driving experience, as well as multimedia systems designed to maximize the relationship between man and machine, as the company likes to put it.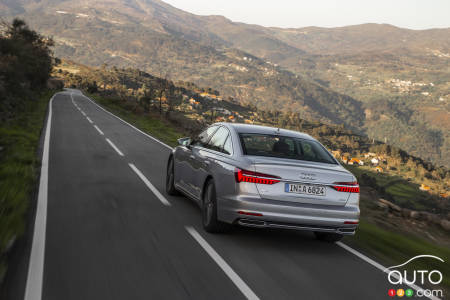 The only engine offered for the new 8th-generation A6 sedan is a new 3.0L V6 with an output of 335 hp and 369 lb-ft of torque. The entry-level edition of the 2018 A6 ran on a 2.0L 4-cylinder. This goes a long way to explaining the major boost in price for 2019. Also worth noting is a 48-volt light hybrid system now included as standard equipment on all trims.
Inside, the level of luxury has been ramped up once again. For example, the climate control system is tri-zone, but an available option makes it possible to set separate settings for the four occupants.
The 2019 Audi A6 is expected at dealership over the next few weeks. We'll of course have details and pricing for the Canadian market as soon as they become available, so stay tuned!