Audi's R8 sports car is nearing the end of its current generation cycle, and even of its life-cycle in its present form. But this has not stopped the German automaker from making a few adjustments for the 2019 model-year. Most notably, the car will benefit from a boost in power and get some esthetic revisions.
We'll start with what likely is of most interest to fans of high-performance cars, the powertrain.
The R8's 5.7L V12 engine is back this year. Audi has not announced any data with respect to its performance numbers, but British magazine Autocar is reporting that its overall output will increase from 533 to 562 hp, while torque will jump by 10 lb-ft to 406. In short, these gains come courtesy of tweaks made to the reprogramming of the central computer. Autocar also reports that the additional power will help compensate for the weight gained by the model for 2019, which is due to the inclusion of new emissions-reduction equipment.
As for the V10 Plus model, it now goes under the R8 Performance name. This version will deliver a total of 603 hp and 417 lb-ft of torque; in its case, the boost in power is due to the use of titanium for the valvetrain.
In all trims of the R8, power is relayed to the four wheels via the Quattro system and a 7-speed dual-clutch automatic transmission.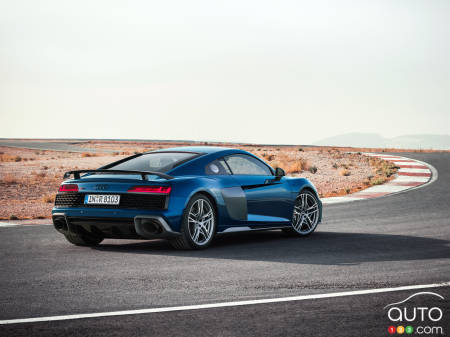 Audi further promises that the 2019 R8 will benefit from more responsive steering and a reduced stopping distance. Also included as a new option is a drive-mode system offering three self-explanatory different modes: Dry, Wet and Snow.
As for the shell of the model, keen-eyed observers will notice that the front grille is larger than before, and now extends to beneath each of the headlights. In back, the air vent that spans the width of the car is now placed lower down, while the rear diffuser sports a new design.
The 2019 R8 will appear first in European markets at the beginning of next year. The versions for North America will make their debut not long afterward.
For collectors, this edition of the R8 might prove to be an attractive item. Once the model is officially discontinued, it will be interesting to see what kind of prices the model will command at specialized performance car auctions.