The 2017 Los Angeles Auto Show marked the world premiere of the redesigned 2019 BMW i8 Coupe and the first-ever 2019 BMW i8 Roadster, both scheduled to go on sale next spring.
An optimized BMW eDrive technology means more power – total output increased to 369 hp (+12 hp), a refined high-voltage battery with increased capacity and range. With hybrid-specific all-wheel drive, the combustion engine driving the rear wheels and the electric motor driving the front wheels, acceleration from 0 to 100 km/h takes just 4.4/4.6 seconds (preliminary) for the Coupe and Roadster, respectively.
BMW says the number of driving situations where the electric motor is solely responsible for powering the car has been significantly increased, in part thanks to the updated 9.4kWh lithium-ion battery. By contrast, the combustion engine is only brought into play when accelerating hard, and is switched off again far more frequently with a measured driving style.
Actually, both the new BMW i8 Coupe and the first-ever BMW i8 Roadster are capable of pulling away and reaching speeds of up to 105 km/h purely on the electric motor's power. And if the eDrive button is pressed, the all-electric threshold of both models is increased to 120 km/h.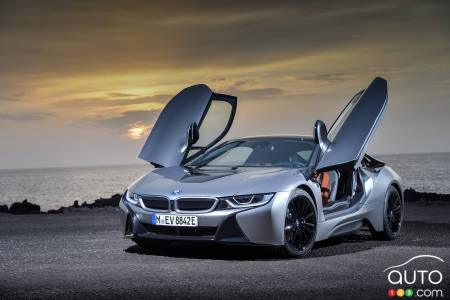 Open-top motoring of a different sort
Of course, the big news is the BMW i8 Roadster, which takes the i8's combination of locally emission-free mobility and high-caliber performance and adds an exhilarating top-down driving experience. It also benefits from a light-weight construction, complete with low centre of gravity and even weight distribution.
Design highlights include model-specific gullwing doors and a soft-top roof that opens and closes in less than 16 seconds while the vehicle is in motion at up to 50 km/h. When opened, the broad roof retracts fully into the rear end, lending greater emphasis still to the car's low-slung silhouette. Exclusive two-tone 20-inch BMW i light-alloy wheels are part of the mix, too.
The unladen weight of the new BMW i8 Roadster stands at 1,595 kg, just 60 kg more than that of the new i8 Coupe. The latest iDrive 6.0 operating system with navigation, a 12-speaker Harman Kardon sound system and model-specific BMW Head-Up Display all come standard.
Discover more of the 2019 BMW i8 Coupe and i8 Roadster in the two videos below: