Lincoln continues its transformation into a brand sporting a younger and more modern image. Meet the all-new Nautilus, a luxury midsize SUV that will replace the MKX, and without a doubt one of our favourite models to debut at the 2017 Los Angeles Auto Show. It is expected to hit the market next summer at a price that has yet to be determined.
Its design retains the trendy stylistic cues already seen in Lincoln's other recent new models such as the large Navigator and even the small new 2019 MKC. The company is aiming to pry more consumers away from other luxury brands like Cadillac, Lexus and Acura.
"With the introduction of Nautilus, Lincoln has a strong, distinctive portfolio with a common and recognizable identity. We're excited to add Nautilus to our Lincoln family of luxury SUVs, along with a new name that better reflects the ideas and attitudes of our clients."

- Lincoln President Kumar Galhotra
Adapted to today's realities
The exterior of the 2019 Lincoln Nautilus is all elegance and aerodynamics, and is led by an attractive new grille, less distracting than the previous one, as well as unique Lincoln embrace lighting. The interior has the feel of a cocoon sealing occupants off from the outside cacophony, thanks notably to improved sound insulation. The optional 22-way power seats certainly allow for finding that perfect driving positions while benefiting from strong lumbar support. The Revel audio system (13 or 19 speakers) provides an appropriate amount of ear candy as well.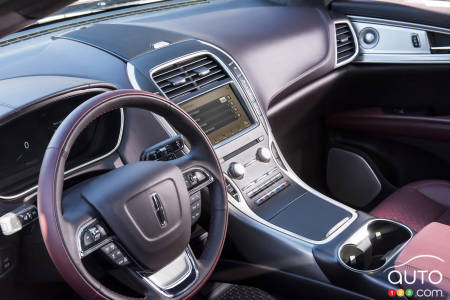 Technological updates are also apparent in the SYNC 3 system and its Apple CarPlay and Android Auto compatibility, a wireless smartphone charging pad, a personalizable 12.3-inch digital instrument cluster behind the steering wheel which displays a whole slew of data, and of course an impressive roster of drive assist systems. Notable among these are lane-departure warning and a system that detects slow-moving or stationary vehicles ahead and facilitates manoeuvering around them.
Unlike the MKX model it's replacing, which is available with a naturally aspirated V6, the 2019 Lincoln Nautilus is powered only by turbo engines, all with direct injection and stop-start technology for improved fuel economy. The base 2.0L 4-cylinder produces up to 245 hp, while the 2.7L V6 increases that output to 335 hp (and 380 lb-ft of torque). Both come bolted to an 8-speed automatic transmission.
All owners need
Lincoln continues to work hard at offering owners more services and a simplified ownership experience. As with the MKC, the Nautilus comes with the new Lincoln Way application, which allows owners to use a smartphone to lock and unlock the doors, find the vehicle, program the remote starter, check the fuel-tank level and even pay for parking, for example.
Lincoln has also added a pickup and delivery service for owners who need to get their Nautilus maintained, without extra cost. As well, beginning January 1, 2018, all new owners of a Lincoln vehicle will get a no-cost 6-month membership to the CLEAR program, which reduces waiting times at security points in certain airports and arenas in the United States (availability for Canada still to be confirmed).