First things first: for its name alone, the Lincoln Nautilus is a winner. It's just so nice in this day and age of "RX" this, "RDX" that and "insert-number-here Series" over there to have a vehicle that gets an actual model name. It's refreshing and for the Nautilus in this case, a bonus in that it takes over from a Lincoln model that used to have one of those annoying number names – the Ford Edge-based MKX.
Never mind that the new nameplate makes it sound a bit like a special edition of the old Mercury Villager minivan. Actually, that van – the Villager Nautica Edition – may have seemed outlandish at the time with its "haute couture" colour treatment, but it seems kind of retro-cool now, so maybe Lincoln wants to bring back memories with their latest CUV.
Next things next: the Nautilus gets the exact same exterior dimensions as does the MKX, plus the same-size fuel tank plus the same amount of cargo capacity. It also gets the same power from its 2.7L EcoBoost twin-turbo V6 as the MKX did: 335 hp and 380 lb-ft of torque. There's also a 2.0L turbo four-banger available that's good for 245 hp and 275 lb-ft; our tester was fitted with the V6 unit.
So what's the deal, then, with the new used-to-be-MKX? Well, let me tell you.
Specifications for the 2019 Lincoln Nautilus
Out with the MKX, in with the Nautilus
Essentially, like the Continental and Navigator (and recently-revealed Aviator Concept) before it, the Nautilus is part of the rebirth of Lincoln. Along with the new nomenclature of this SUV comes more-distinctive styling as well as more attention being paid to adding a high(er)-class feel to the interior environs. Indeed, with an all-new grille, headlights, wheels (measuring 20-inch on this, the Reserve trim) and a character line or two, you'd be hard-pressed to see any relation between this and the MKX.
Inside, the theme is similar, as the Nautilus has been blessed with one of the airiest, most high-quality interiors in the segment, with just a few glaring flaws having it come up just short of the likes of the BMW X3/X5 or Acura RDX.
Yes…
First, the good stuff. The dash is uncluttered and well laid-out, punctuated by a big infotainment screen featuring SYNC 3, Apple CarPlay and Android Auto as standard stuff. It's not often I say this, but Lincoln's native display is so good that I don't think compatibility with those systems is a must. I've always found one of the main bonuses of those systems is how much easier they are to navigate, but that's not entirely the case here.
Most Nautilus buyers are still likely to stick with what they know, but Lincoln deserves some kudos for what they've done here.
To kick things up a notch, there's also a standard 12.3-inch digital gauge display, and our tester had the $5,500 Ultimate package which adds Revel Ultima 19-speaker audio, up from 13 as standard on the Reserve trim. It's a fantastic system with a number of audio modes that really do sound as they're named: Stereo, Audience and Onstage. Having previously experienced this in the top-flite Continental, I was curious to see how it would translate to here. It has done so almost flawlessly, and I have to applaud Lincoln for taking the sound system as seriously as they have.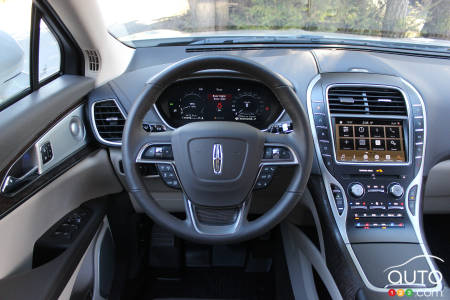 Comfort-wise, the seats are finished in supple leather that fits well with the real wood (and aluminum lookalike) inserts, and there are refreshing details aplenty: the smooth feedback from the silver volume and tune knobs, for example, or the way the button shift system (mounted to the left of the infotainment display) makes room for storage underneath the centre console, providing functionality and airiness all at the same time.
Even just the graceful sweep of the centre stack, and the way it blends perfectly with the centre console and appears meticulously crafted (there's wireless charging in the enclosed bin at its base, by the way) is a big highlight. It seems like it could be part of a top-notch luxury HiFi system in the penthouse of one of the five million new buildings that went up last week in Vancouver that no one can afford to live in. That's how good it is, and when I sat in the rear seat to check for roominess and that dash and console caught my eye, I just sat and stared.
But…
It's too bad, then, that while the centre console is one of the interior's strongest bits, it's also one of the sore spots for me as the area below the screen is finished in unappealing plastic that I worry would get scratched to death. Best keep your keys (and kids, or pet) as far away from it as possible.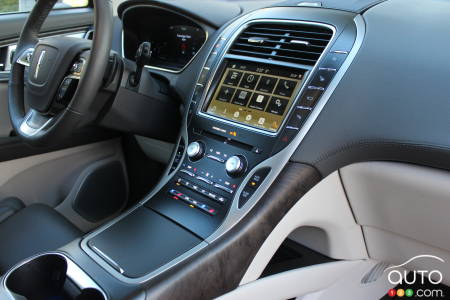 While I took no issue with the amount of room I had up front in the driver's seat (or seat comfort, as it's adjustable -- wait for it – TWENTY-TWO ways), the actual seating position left a little to be desired. Less a fault of the seat than that of the way the steering wheel is angled. Like the Edge with which it shares a platform, the wheel is canted away from the driver at such an angle that it's hard to reach, no matter what I tried.
I have a feeling it's worse for drivers like myself, with long legs that force the seat back, and there just isn't enough telescope on the wheel to make up for it. I'm also unsure of how I feel about the button-activated transmission. It's great that it frees up all that space inside, but it's delayed in its response, testing my patience in three-way turns especially.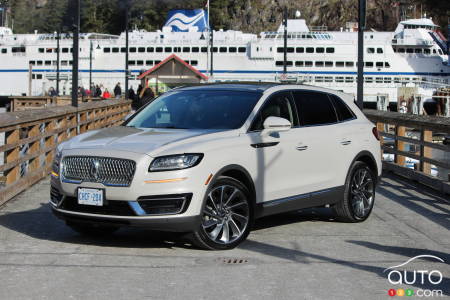 The drive
Once up and running, however, the Nautilus doesn't disappoint on the power front. All that turbocharged power and torque is distributed smoothly, and should you need a little extra stability, a torque vectoring system can shuffle power from wheel to wheel to help you more easily get through turns and ensure that the wheels with the most grip get the power. The result is a very smooth ride thanks to adaptive dampers with pothole mitigation, while the new, lower profile front end helps reduce wind noise and drag.
There are no drive modes, but if you want a little more spunk from both the powertrain and chassis, "S" on the shift panel tightens things up damper-wise, and adds a little more zippiness at the same time. There's no question that this is a luxury CUV from a luxury manufacturer that's finally finding its footing after a decade-plus period of decline.
Adding to the feeling of coddling and luxury is our tester's $2,500 driver assistance package, which provides adaptive cruise control and steering, collision mitigation system, dynamic brake support evasive steer assist and forward collision warning. I especially liked the active lane-keep assist, which does a good job of providing the sensation that it's following a line down the middle of the road, thus avoiding bouncing back between lane markers.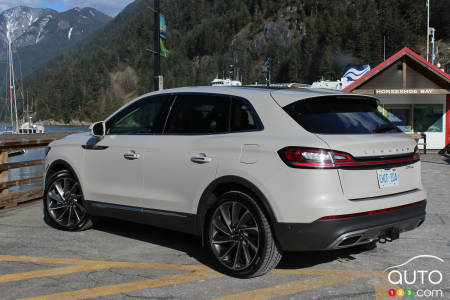 It's good that the system is so non-invasive, because that's really what a luxury crossover like this should be all about. Oh, they can also be a little more performance-oriented, but that tends to be more in the Germans' purview as even with that motor (and paddle shifters – used sparingly by me. Like, one-time sparingly), I wouldn't say that's what the Nautilus is all about. For me, it's all about that supple interior, good tech and enough power to get you where you need in comfort, and, at an observed 13.2L/100km of fuel usage, somewhat efficiently.
Road Tests and Reviews

Experts

Consumers
2019 Lincoln Nautilus