Today Volvo officially debuted its all-new 2019 Volvo S60. The luxury midsize sedan was introduced at the automaker's plant in Charleston, South Carolina. Why? Because that's where the model will be built. In fact this is the first Volvo car ever to be made in the USA.
Another first for this newest Volvo is that it's the first car from the company not to be offered with a diesel-engine configuration. You'll recall the several public commitments the manufacturer has made in recent months and years regarding the electrification of its fleet, so the decision, while noteworthy, is hardly a surprise.
Instead the S60 will be powered by two different hybrid powertrains: the T6 Twin Engine with all-wheel drive (combined output, 350 hp), and the T8 Twin Engine with all-wheel drive (400 hp); they will come in addition to the T5 and T6 gasoline engines also available on launch. The T8 electrified version of the S60 will be available with the Polestar Engineering performance package (which boosts total power to 415 hp).
"The new S60 is one of the most exciting Volvo cars we've ever made. It is a true driver's car…"

- Håkan Samuelsson, president and chief executive, Volvo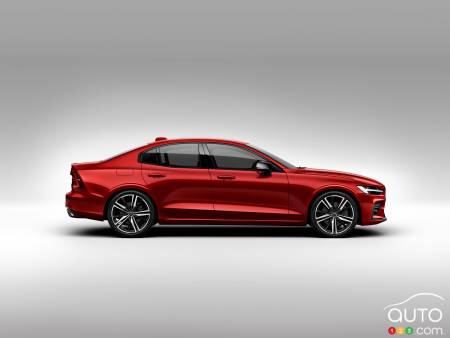 The model is built on Volvo's own Scalable Product Architecture (SPA) platform, already found on the 90 series of vehicles, the new V60 and the XC60 SUV.
"The active chassis and drive modes deliver excellent control and an engaged performance that makes this a driver's car. It also brings the acclaimed technology from our 90 Series and other 60 Series cars into this segment, making it one of the best sports sedans on the market."

- Henrik Green, senior vice president for research and development, Volvo
Inside, the Sensus Connect multimedia system is fully compatible with Apple CarPlay, Android Auto and 4G, and is accessible via a tablet-style touchscreen.
The City Safety with Autobrake technology helps the driver avoid potential collisions, and is the only system on the market to recognise pedestrians, cyclists and large animals. In a world first for the midsize sedan segment, City Safety now also engages auto braking to mitigate oncoming collisions.
Available as an option, the Pilot Assist system supports the driver with steering, acceleration and braking on well-marked roads up to 130km/h, and has been upgraded with improved cornering performance.
The S60 also includes Run-off Road Mitigation, Oncoming Lane Mitigation and other steering assistance systems. The optional Cross Traffic Alert with autobrake further enhances safety for people inside and outside the car.