Volvo has just given its new 2020 XC90 an official coming out party – online anyways – and we discover an SUV that's been mildly retouched on the outside and more substantially updated inside. We're dealing here with an evolution and not a new generation, Volvo having preferred to give its big utility model annual updates and tweaks since it debuted for the 2016 model-year.
The automaker is offering its XC90 in a new variant for 2020, which gets the B designation. This version runs on an electrified powertrain that combines a combustion engine with an energy recovery system developed by the manufacturer specifically for the braking system. Unfortunately for us, this variant won't be made available for the Canadian market in 2020 – at least we've been warned!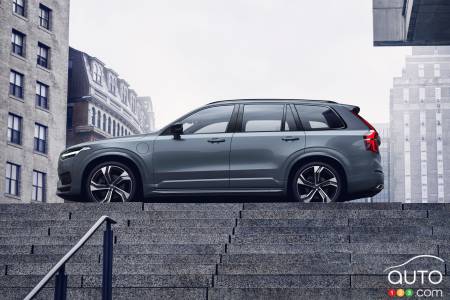 As for the exterior modifications, they consist of new alloy wheels, new colour options and an updated front grille. Back this year of course is the now-signature Thor's Hammer headlights and floating grille, all riding on Volvo's SPA architecture.
Inside, the Swedish manufacturer points out first off that all of the technologies and innovations that have made their way into Volvo's other 60- and 90-designated vehicles between 2015 and 2019 are now part and parcel of the XC90 product offering. The company is also adding a new 6-seat configuration for 2020, just to make this highly versatile model even more so.
Among the other additions designed to make it easier to personalize the XC90 are new materials for the interior space, including a wool blend
"The refined styling of the XC90 and its incomparable versatility resonate perfectly with consumers. The new six-seat configuration offers the best seating possible and represents a perfect configuration for families."

- Hugues Bissonnette, Director of Sales Operations, Volvo Cars of Canada
For 2020, the XC90 integrates the City Safety and Blind Spot Information systems. City Safety with Autobrake is, according to Volvo, still the only system on the market to recognize pedestrians, cyclists and large animals.
The Oncoming Lane Mitigation system first introduced on the XC60 is now also available on XC90, while the Cross Traffic Alert technology now also offers autobrake. These work in support of the passive safety technologies that are a Volvo trademark.
The XC90 already offered Apple CarPlay compatibility, and it now does the same with Android Auto. The SUV also features the latest version of the Sensus multimedia system.
The 2020 edition of the XC90 will go into production this coming May, and Canadian consumers can place pre-orders starting now. The SUV should be arriving in showrooms in the summer, with the exception of course of the new B version. We should know more about pricing and trims for Canada as the launch date approaches.