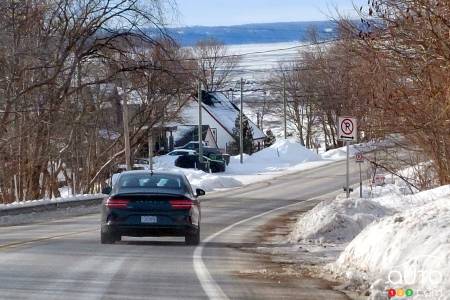 • Auto123 reviews the 2023 Genesis Electrified G80, as well as the 2023 Genesis GV60.
Quebec City, QC – The drive between Quebec's provincial capital and its metropolitan centre of Montreal is a 2- or 3-hour affair, depending on how well you obey speed limits and on road conditions. No big deal really, but the distance is enough to awaken range anxiety in some folks who might be doing the trip in an EV.
All told, we were covering a little more than 300 km on this trek organized by Genesis of Canada, the idea being to get a feel for the all-electric models residing in their current lineup, the GV60 small crossover and the Electrified G80 sedan. The official range of the first is 399 km (not 400, 399!), the second 454 km.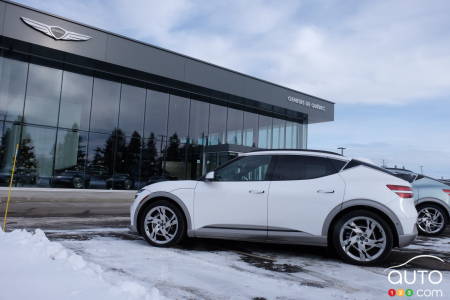 Well that's plenty, you'll say. Who would get range anxiety from that? Well rationally, no one, but that's the thing about anxiety, it's not always rational. Plus, this being winter, you can throw those official figures out the window, because EV battery range always drops along with the temperature.
I should clarify that on this day, we had zero cause for range anxiety, since we were well taken in hand by Genesis, which kindly recharged each vehicle during our lunch stop. As it happens, though this couldn't be predicted, we also did not have the frigid temperatures that really do tear into range figures and that we've had to contend with in test vehicles in the past.
Genesis Electrified G80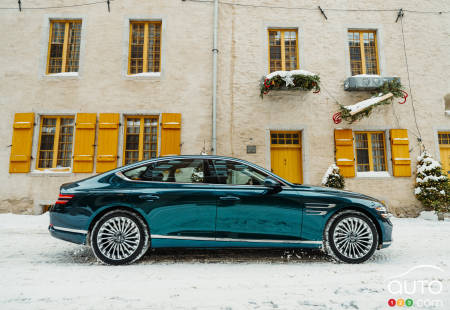 That said, we did start out our day in a full charged Electrified G80 that gave us an estimated 360 km or so of range, so some distance from the official given figure. But of course, range is only one element to consider. How was this premium sedan as a travel partner?
The Korean brand's middle-child sedan is the porridge that's just right for many motorists, at least those who more room than a sporty compact like the G70 delivers but less than an executive boat like the G90 does. Th G80 delivers an exceptionally smooth ride worthy of its finest German rivals, frankly. That smoothness has been increased even more with the integration of an electric powertrain. Total output from the two electric motors (which means AWD, of course) is 365 hp, along with all torque available instantly. As you can guess, acceleration is something to behold.
Good as that is, though, that's not what this luxury sedan is about. To know what it is about, finish your acceleration and level off at highway speed. At cruising altitude, the Electrified G80 delivers first-class seating, cabin and ride, except minus the sound of an airplane. Minus just about any sound, for that matter. The car's adaptive suspension anticipates road imperfections and makes micro-adjustments that are felt not in the immediate but over the long haul.
Strong points
Incredible acceleration
Layout of controls
Great highway cruiser
Weak points
The car is heavy, noted in corners
Braking can be a little jerky
Soft suspension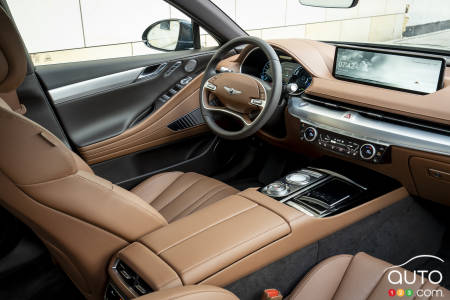 As mentioned, the interior environment is a nice place to be, especially on longer road trips. The Genesis interface for the multimedia system is modern-looking and responsive. It's fairly user-friendly as well, with one caveat: most users will use the turn-knobs down on the lower console, which is a system I prefer to reaching put to the screen and pushing buttons and swiping, which seems to invite driver distraction. Problem is, there are two of those turn-knobs, close together. And even after driving several Genesis models at different times, I still use the one when I meant to use the other on occasion.
Seating is comfortable, worthy of the model's luxury status and on a par with what you'll get in a Mercedes, and leg- and head-space are very generous, as you'd expect.
Strong points
Refined, comfortable interior
Advanced tech
Able multimedia system
Weak points
Confusion w/ knobs on console
Soft-ish suspension
2023 Genesis GV60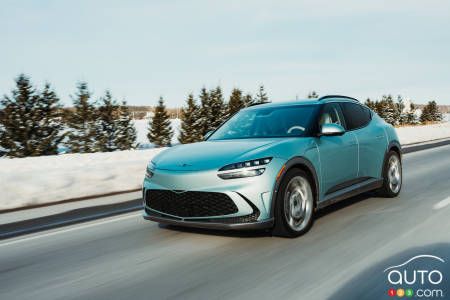 As part of this drive program, Genesis also provided for our use the Genesis GV60, a totally different bird than the G80 in that it's a smallish crossover, and sportier all in all than the sedan.
We've driven and reviewed the GV60 previously, and since the conditions one this day were notably non-winter-like, we didn't focus too much on this model. Worth repeating, this model is essentially the luxury equivalent of the Hyundai Group's other new electric compact crossovers, the Hyundai Ioniq 5 and the Kia EV6. The three models share essentially the same mechanics and guts, but with three very distinct outer shells. While those two models have very acceptable interiors, the Genesis GV60 comes with a cabin that is notably more upscale.
On the road, in a nutshell, the GV60 delivers an outstanding small-car drive with, yup, incredible initial acceleration especially if you choose to press that Boost Mode button, which gives a 10-second jolt of extra horses and torque (to a total of 483 hp and 516 lb-ft of torque). You can do that repeatedly (I was reminded of those experiments with mice repeatedly pressing a button to receive pleasure sensations via electrodes hooked up to their brains!), but you'll eat up battery charge accordingly.
Strong points
Incredible acceleration
Sporty, dynamic drive
Fun touches inside, advanced tech
Weak points
So-so visibility out the back
Not family practical
Smallish trunk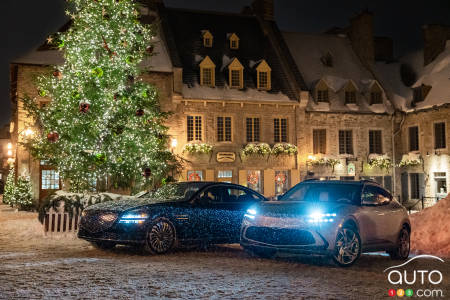 The final word
The weather failed to really put either of Genesis' current BEVs to the test in any kind of harsh winter conditions, but it was our first spell inside the Electrified G80 and the experience was valuable nonetheless. The car delivers a very positive driving experience, the twin highlights being the outstanding acceleration and incredibly quiet, smooth highway driving experience. Range is perfectly acceptable, and all-wheel drive is standard.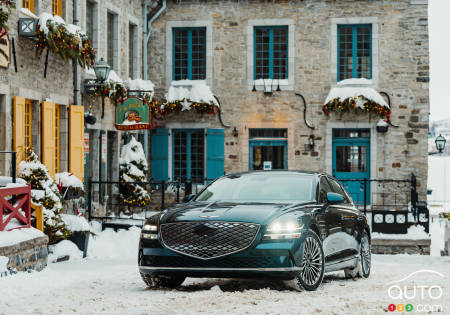 Here a few of your questions about the 2023 Genesis Electrified G80:
Is range an issue with the Electrified G80?
For most people, the answer is a resounding no. At upwards of 450 km, it's largely sufficient for most typical commuters. Even in winter, the average 340 km we've seen should prevent too much anxiety.
Any idea of what a Electrified G80's resale value is going to be down the road?
In a nutshell, no. With such a new model, and with luxury all-electric sedans being a relatively new format on the market, it's difficult to predict what demand will be for them in three-four years, when a bunch of newer, more advanced EVs will be hitting the market. Plus Genesis doesn't have the built-in cache of a BMW or Audi. Time will tell.
The competition
Audi A4 e-tron (to come)
BMW i4
BMW i5 (to come)
Mercedes-Benz EQE (to come)
Tesla Model S