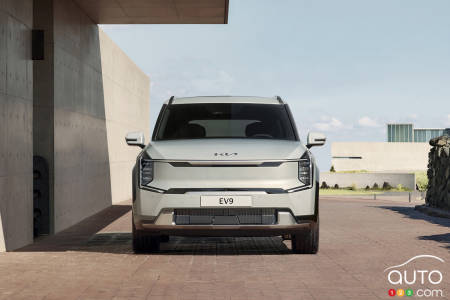 • Kia has unveiled the design of the all-new EV9, a three-row all-electric crossover coming for 2024.
• This is the future electric Telluride in all but name.
After the glut of all-electric compact SUVs that have flooded on to the market over the past year, we're now girding for a similar wave in the midsize segment. Kia has unveiled one of the first models in the configuration, the EV9 – or at least, shown its exterior and interior design. Details about the specs will be revealed in another two weeks.
For all intents and purposes, this new EV is the electric equivalent of the Telluride (and eventually its replacement). Though just from the images, we can see that Kia gave the EV its own, distinct styling.
The Kia EV9 is bult on the automaker's E-GMP EV-dedicated architecture, which permits a flat-floor design setup, ensuring optimal passenger space. The biggest beneficiaries might be those sitting in the third row.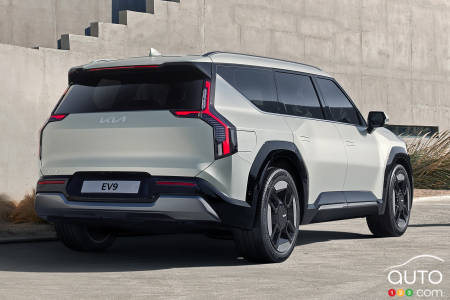 Outside
The EV9 is fairly boxy for an EV, which is unavoidable really for a people-mover, but Kia doesn't try to hide the rectangular-ness much, and in fact there are elements meant to boost the ruggedness of its look. Those include cladding over the wheels and a fairly vertical front panel. That's bookended by vertical headlights containing clusters of small cube lamps. Outside of those, we find what Kia calls 'Star Map LED daytime running lights (DRL)' that will help make the vehicle distinct on the road. Expect to find the same general setup on other future EVs from Kia.
The back end gets similarly slim rear lights and a very clean line for the rear hatch, again bookended by vertical lights.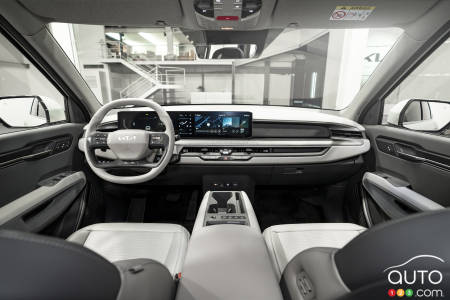 Inside
The EV9's long wheelbase, low beltline, and fully flat EV architecture gives Kia cause to promise a very wide-open interior space, on the level of "lounge-style comfort in all three rows of seats". The SUV will be available in both 6-seat and 7-seat configurations.
The first and second-row seats can simultaneously be reclined (when not in movement, of course; so, say, when recharging the vehicle). The seats in the second row can be swiveled 180 degrees to face those of the third row. The third-row seats also offer cup holders and charging points for mobile devices.
Up front, the open, floating panoramic dashboard extends from the steering wheel to the vehicle's centre. There are two 12.3-inch touchscreens integrated with a 5-inch segment display, with physical buttons kept to a minimum.
The centre console is equipped with storage options, including a compartment located at its base.
Kia promises a highly interactive central touchscreen, beneath which are placed hidden type touch buttons provides a start/stop function along with audio and climate-control commands.
As mentioned, the Kia EV9 gets a global premiere (digital) in late March. We should learn comprehensive product information at that time.