• The all-new 2025 Volvo EX30 made its official debut in Milan, Italy this morning.
Volvo has just presented what becomes the smallest SUV in its lineup. The all-electric EX30 becomes Volvo's fourth ICE-free model, and its size – and pricing, promises the automaker – are conceived to make a Volvo EV accessible to a new tranche of customers on a budget.
What to know about the 2025 Volvo EX30
There are two powertrain options coming to the product offering: the Single Motor Extended Range rear-wheel-drive model offers the most range, estimated by Volvo at 442 km (official figures are still to come). The other choice is the Twin Motor Performance version, which has a four-wheel-drive configuration and delivers 422 hp of total output, as well as a 0-100 km/h acceleration time of 3.6 seconds. More figures:
EX30 battery capacity (usable): 64 kWh
EX30 charging capacity: 153 kWh
EX30 output (Single Motor Extended Range): 268 hp
EX30 output (Twin Motor Performance): 422 hp
EX30 torque (Single Motor Extended Range): 253 lb-ft
EX30 torque (Twin Motor Performance): 400 lb-ft
EX30 range (Single Motor Extended Range): 442.5 km
EX30 range (Twin Motor Performance): 426.5 km
That charging capacity of 153 kWh translates into 26.5 minutes to charge from 10 to 80 percent on a fast charger.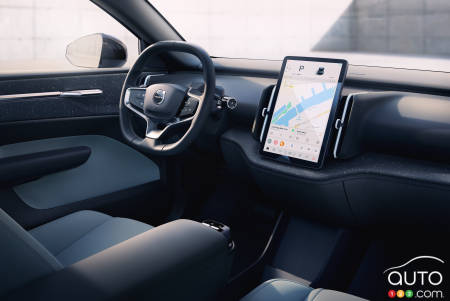 Interior of the 2024 Volvo EX30
There are four distinct interior environments available for buyers to choose from, and Volvo says it has put a lot of effort into maximizing interior space inside this small SUV, down to a plenitude of storage spaces. We'll know more about that when we have the chance to sit in it.
Other notable features include advanced digital key functionality, as well as five different ambient lighting themes (paired with ambient soundscapes).
That's about it for the details regarding the interior, and in case keep in mind that the product offerings will vary depending on the market. We should learn more soon about the lineup as it will look in Canada, as well as launch dates and pricing.
Volvo did say today that we can expect a Cross Country version of the EX30 next year, and it provided some images of that variant to whet appetites.