Bowmanville, ON –
Hyundai: A Seoul, South Korea based car company officially founded in late 1967 is celebrating 30 years in Canada in 2013. Didn't realize that did you?
From Pony-plagued humble beginnings to delivering an expected 140,000+ units in 2013 in Canada, Hyundai is the definition of determination, and according to those in power at Hyundai Canada, the company is here to stay. I tend to believe them.
There are many keys to Hyundai's massive accomplishments in Canada, and one that remains on top is value. As of late, styling has climbed to the near top of consumers' reasons for purchasing these cars. From this, I can extrapolate that buyers are not only getting lots of kit for their money, but that they are also enamored by the looks of the relative bargain.
This position, where Hyundai has managed to blend emotion and rationality, is without a doubt the most desirable for a car manufacturer to be in. Other makers struggle to create a similar blend with varying levels of success.
So, how does a company celebrate such an achievement? Simple: by bringing together a number of auto journalists to the Canadian Tire Motorsports Park (aka Mosport, herein referred to as CTMP) and letting them run rampant with their cars.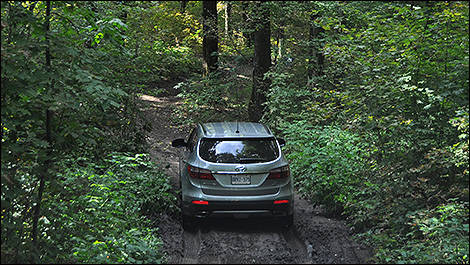 Photo: Mathieu St-Pierre
2013 Veloster Turbo and cones
One of the exercises, devised in order for us to experience this car's abilities, was a timed slalom course lap. This now highly competitive activity pits driving abilities to the
Veloster Turbo
's gripping, accelerating, and braking abilities.
As we journalist types tend to be quite competitive, the heat was on. A very strong initial time was set by The Korean Stig, and fortunately one journalist was able to beat it. I sadly, could not. However, I was the second best auto critic of the day or the first loser…
The Veloster Turbo performed flawlessly despite the massive abuse inflicted on the car while we attempted to get the most out of its turbocharged 1.6L, 4-wheel disc brakes and chunky 18" tires.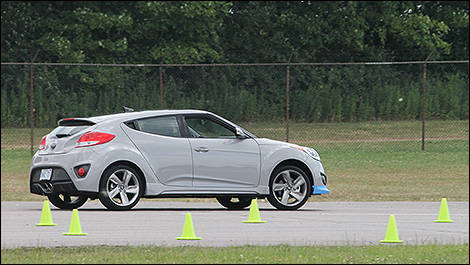 Photo: Justin Pritchard