Not long after its 20th anniversary in the United States, Acura announced that the first US-built model is scheduled to be exported to China. The first shipment of Acura TL's, destined to be sold at select dealerships in metropolitan areas, arrived in Shanghai earlier this week.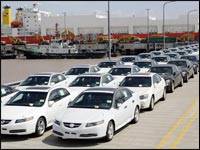 (Photo: Acura)
The TL is a performance luxury sedan which was designed and developed in the US. Built in Ohio and exported to Canada and Mexico, it will also be sold alongside the brands flagship, the RL, in China. As the best-selling Acura model in the US, expectations are high for its sales performance elsewhere.
The company is excited about the expansion and the official launch of the brand to Chinese consumers in 2008. Projected sales in the first year of operations in China are about three thousand units.
John Mendel, Senior VP of automobile operations said "China is one of the fastest growing markets in the world and we are confident that Acura will be at the forefront of China's luxury automobile market."