• Toyota President and CEO Akio Toyoda will step aside on April 1.
• Under his leadership, Toyota remained committed to hybrid vehicles ahead of full-on electrification.
• Koji Sato, 53, currently president of Lexus and Gazoo Racing, will take his place.
• Toyoda will become chairman of the board of directors at Toyota.
Toyota has not been the most aggressive auto company when it comes to electrification. The automaker continues to rely on hybrid technology far more than on 100-percent electric systems for their vehicles. A major announcement from the company today could change that in the next few years.
Akio Toyoda, grandson of the company's founder, Kiichiro Toyoda, and the brand's president and CEO since 2009, is stepping down, as of April 1. Aged 66, he will become chairman of the board of directors, replacing the current chairman, Takeshi Uchiyamada, who is retiring from that position while remaining a member of the board.
Browse cars for sale available near you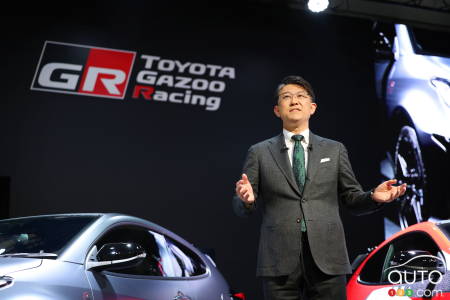 It's not a stretch to think that this change may bring, well, change, on the assumption that Toyoda's successor is younger and presumably more open to a transition to electric mobiliy. Koji Sato, 53, is currently the president of the Lexus brand and of Toyota's motorsports division, Gazoo Racing. He is the man behind the development of high-performance models bearing the GR badge, including the GR Supra and GR Corolla.
Akio Toyoda was candid when speaking about his tenure as head of Toyota to the Financial Times: "Because of my strong passion for cars, I am an old-fashioned person in regards to digitalisation, electric vehicles, and connected cars. I cannot go beyond being a car guy, and that is my limitation."
The executive acknowledged that the new executive team will be able to change the direction of the company, explaining that he needs to "to take a step back in order to let young people enter the new chapter of what the future of mobility should be like."
Recall that in 2021, Toyota announced a series of future electric vehicles, backing that up with a commitment to invest $35 billion. The appointment of Koji Sato could see many of these concepts reach production with an influx of funds dedicated to electrification.
Many will be watching Koji Sato's first decisions when he takes up his new position in April. The rhetoric may change at Toyota, and so may the actions. How much remains to be seen.