The unveiling of the 2013 SRT Viper at the New York Auto Show was overshadowed by Dodge's announcement to return to the American Le Mans Series later this season, with the Viper GTS-R.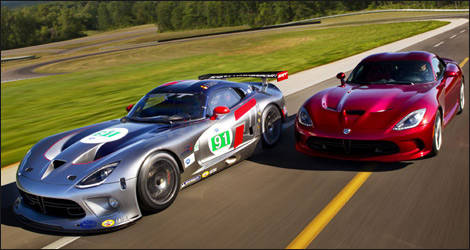 Dodge's new Viper GTS-R - competition and street versions (Photo: ALMS.com)
Three drivers have been signed: Dominik Farnbacher, Marc Goossens and Canada's own Kuno Wittmer. Farnbacher and Goossens have already experienced ALMS racing, but Wittmer will be making his series' first start in 2012.
The return of the Viper was long awaited, given its pedigree. Fielded by Huges de Chaunac's Team ORECA, it won three titles, way back when the ALMS was getting off the ground in the late '90's.
"I don't think it's possible to overstate the significance of the SRT Viper returning to the top level of professional sports car racing," said Scott Atherton, President and CEO of the American Le Mans Series presented by Tequila Patrón.
"The Chrysler Group has a long, storied and very successful history of competing with the American Le Mans Series. We would be hard-pressed to come up with a better scenario than having the brand return with the simultaneous introduction of both the new production car and the competition version. What a great way for SRT Viper to come back to racing."
During the its first career, the Viper also won its class at the Le Mans 24 Hours three times - between 1998 and 2000 - and outright at the 24 Hours of Daytona during that same 2000 season.
"Racing has been a significant part of the illustrious history of Viper not only with significant wins on the track, but also in the continued development of the street cars - and our new 2013 SRT Viper models are proof of those lessons learned," said Ralph Gilles, President and CEO - Street and Racing Technology Brand and Motorsports, Chrysler Group LLC.
"Now with our new team and the launch of the GTS-R, we're excited and proud to begin writing more chapters in the racing history of the Viper later this summer."
Source: ALMS.com