Honda Performance Development (HPD) has revealed its plans to introduce energy recovering systems (ERS) to its LMP1 and LMP2 customer programs, starting in 2014.
The HR22T, HPD's 2014-spec engine for endurance, will be based on the 2.2-litre direct injection V6 currently used in IndyCar, over in America. Its introduction will be timed with the World Endurance Championship's (WEC) new rules package, which favours small-displacement, turbocharged engines.
But it will also be allowed in the new Unified SportsCar Racing series, which will debut next year.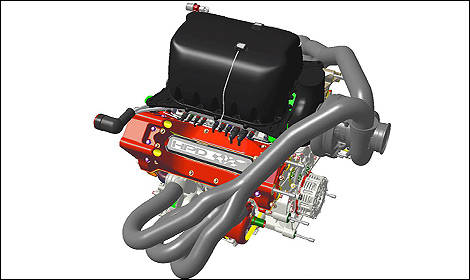 Photo: HPD
Teams will individually get to pick within a variety of ERS devices. Their options will also include not running one at all.
Performance will be controlled through the flow of fuel, rather than with air restrictors or engine displacement like in the past.
The previous generation HR28TT engine has been very popular all around the world, because it's legal in a wide range of racing series, including the WEC and American Le Mans Series (ALMS) championships. HPD is hoping to build on the HR28TT's success, which includes two LMP2 wins at the 24 Hours of Le Mans in the last four years.