Japanese car manufacturer Mazda will enter four cars in this year's Andros Trophy, the prestigious ice racing series staged at ski resorts in France.
This year's edition will mark the 25th anniversary of the ice racing series.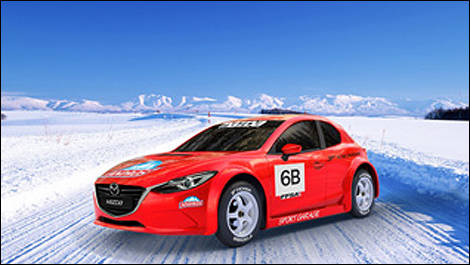 The Mazda3 Slhouette (Image: Trophée Andros)
Mazda France will run four Mazda3s. The No. 3 will be driven by former Formula 1 driver, Olivier Panis and Berenice Demoustier.
Benjamin Riviere will share the wheel of the No. 2 car will Laurent Barbieri.
Christian Beroujon and Philippe Marie will drive the No. 12 Mazda3 while the No. 6 will be steered by Didier Thoral and another driver to be announced later.
The sporting regulations have also been slightly modified.
This winter, the fastest driver in the timed session will receive one bonus point for Races 1 and 2, as will the drivers who will set the fastest laps in the same two races.
The minimum weight of the Silhouette cars has been set at 1030kg.