The 25th edition of the Andros Trophy ice racing series will begin this weekend at French ski resort of Val Thorens located at the altitude of 2200m (6700ft).
The launch of the 2013-2014 series was made in Paris Wednesday night with co-series' founders Max Mamers and Frédéric Gervoson and a horde of drivers.
Mazda France enters four Mazda3s, but we note that Dacia and Skoda have stopped their involvement.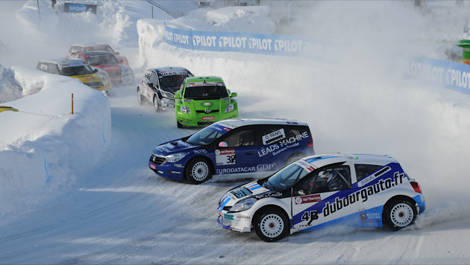 Race action during one of the 2012-2013 race. (Photo: Trophée Andros)
Jean-Philippe Dayraut (Team Saintéloc /Mini Countryman) will want to clinch a 5th title, but he will need to fight hard against former Formula 1 driver, Olivier Panis who will drive a Mazda3.
Entry list for Val Thorens (Silhouette cars):
01
Saintéloc RacingMINI Countryman
JP. DAYRAUT
T. JONCOUX
02
Team Mazda FranceMAZDA3
B. RIVIERE
L. BARBIERI
03
Team Mazda FranceMAZDA3
O. PANIS
B. DEMOUSTIER
04
DA RacingRENAULT CLIO III
J.B. DUBOURG
A. DUBOURG
05
Saintéloc RacingMINI Countryman
B. BALAS
G. FONTANEL
06
Team Mazda FranceMAZDA3
D. THORAL
E. MOINEL
07
DA RacingRENAULT CLIO III
F. LAGORCE
L. DAZIANO
08
Saintéloc RacingCITROEN DS3
O. PERNAUT
M. LAFFITE
09
Knapick CompétitionBMW série 1
H. KNAPICK
AS. LEMONNIER
10
Saintéloc RacingFORD FIESTA
E. BÉNÉZET
D. CHIANALE
11
Sodifuel RacingRENAULT CLIO III
C. CALMON
G. MAILLARD
12
Team Mazda FranceMAZDA3
Ch. BEROUJON
Ph. MARIE
14
Saintéloc RacingFORD FIESTA
S. PUSSIER
J. WOLF