Governor Arnold Schwarzenegger announced his support for Tesla's next product, a 4-door, 5-passenger sedan which will be manufactured at a facility in the state of California.
Previously, this vehicle was scheduled for production in Albuquerque, New Mexico. However, the company decided that it would be highly advantageous to build manufacturing facilities in close proximity to the engineering and R&D centers in San Carlos, California. Mr. Schwarzenegger had made it clear that he wanted to keep Tesla manufacturing in this West coast state.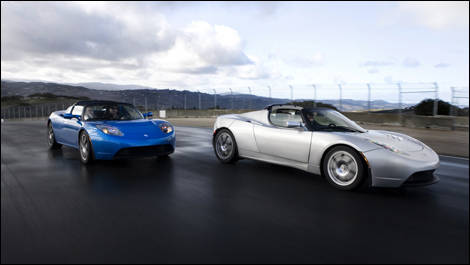 Tesla Roadster
This is excellent news for California. State authorities recently approved a new program that exempts new Zero-Emission Vehicle manufacturers from paying sales and use tax on the purchase of manufacturing equipment and will encourage ZEV manufacturing in California. Tesla will also be eligible for at least $1 million in Employment Training Panel Workforce Development Funds to train employees.
Tesla's sedan
, which is targeted for late 2010 production, will utilize the same leading
electric powertrain
as the famous
Tesla roadster
. The car will be both stylish and high-performing yet extremely functional. The exact location of the manufacturing facility will be decided soon.
photo:
Tesla Motors