The Audi Q3 Vail, named in honour of Colorado's premier ski resort, is a compact SUV designed specifically for those who love to shred those mountains. The Q3 Vail is decked out in a special Energy Red cloak, and the cabin is splashed in a palette of three colours, black, grey and red.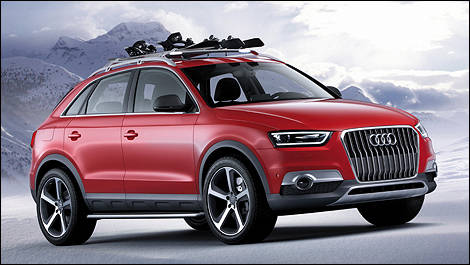 Photo: Audi
The Audi Q3 Vail is powered by a turbocharged 2.5L, 5-cylinder, engine which punches out 314 ponies and 295 lb-ft of torque. It propels the ute from 0 to 100 km/h in 5.5 seconds en route to a top speed of 262 km/h.
The cabin and cargo area have been ingeniously designed for the winter sports fan, boasting such features as a flashlight charging station and a Thermos bottle in the centre cup hold that keeps drinks hot or cold. A trunk mat integrates heated cushions and protects the cargo area.