As reported by Audi
Robert Downey Jr. has returned to his role as the ingenious engineer and Super Hero Iron Man. The world premiere of Iron Man 2 took place on Monday in Los Angeles. Along with Robert Downey Jr., several other big names accompanied director Jon Favreau down the red carpet, including Gwyneth Paltrow, Scarlett Johansson, Mickey Rourke, Don Cheadle, Sam Rockwell, Samuel L. Jackson – and right in the centre of things, the
Audi R8 Spyder
. Robert Downey Jr. arrived for the premiere at the El Capitan Theatre in the supercar. It was a scene straight out of the Marvel Studios movie, in which main character Tony Stark drives the open-top two-seater.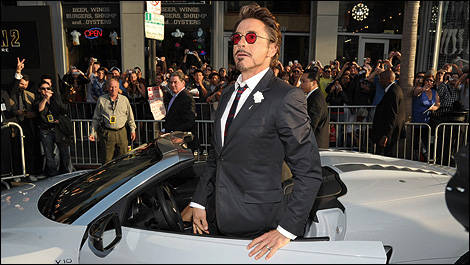 Actor Robert Downey Jr. with the Audi R8 Spyder at the Iron Man 2 premiere in Los Angeles. (Photo: Audi)
The R8 Spyder is practically custom-made for the superhero, a technological genius who needs to drive the car without his high-tech suit, but doesn't want to miss out on innovative technology. Robert Downey Jr. and his R8 Spyder put Audi's philosophy of Vorsprung durch Technik to good use: Iron Man's visual capabilities are optimized by the helmet, for example, and the R8's high efficiency LED headlights likewise provide for good vision.
The supercar from Audi matches the Super Hero's indestructible suit with its own carbon fiber composite materials in parts of its exterior skin, along with a high-strength aluminum frame known as the Audi Space Frame. And they both have their hearts in the right place: a glowing artificial one in Iron Man's chest, and an impressive mid-engine design in the R8, which is visible externally.
With its jet propulsion, the Iron Man suit worn by Robert Downey Jr. is unrivalled – and the R8 Spyder, with its 525 hp engine, needn't fear its rivals either. The 5.2 liter FSI engine of the R8 powers the two-seater convertible to a top speed of 313 kilometers an hour. Only flying could be better – and in this case, Iron Man clearly comes out on top. But Robert Downey Jr. hardly needs to concern himself. In the movie, he has the best of both worlds.
"Just like the first movie, Iron Man 2 is the perfect environment for the Audi R8. Like us, the technologically ingenious Super Hero Tony Stark represents Vorsprung durch Technik. And just as the R8 Spyder was developed from the Audi R8, the Super Hero Tony Stark surprises us with new innovations," said Lothar Korn, Head of Marketing Communications at Audi. Robert Downey Jr., alias Tony Stark, also drove the
Audi R8
in the first Iron Man movie, which was released in May 2008.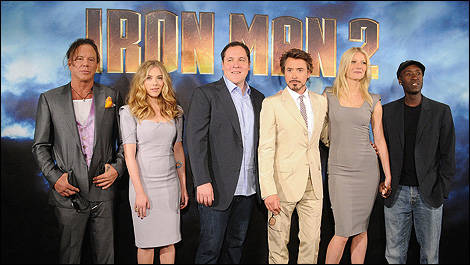 (from left) Mickey Rourke, Scarlett Johansson, Jon Favreau (director), Robert Downey Jr., Gwyneth Paltrow, Don Cheadle (Photo: Audi)