Auto123.com competed in the third annual Rallye International Vert de Montréal this weekend, surprising many by finishing 15th overall behind the wheel of a 2011 Porsche Cayenne S Hybrid.
Driver Olivier Delorme and his copilot Marc-André Hallé were both "green" to this type of event, as first-time driver and navigator.
Despite a few mistakes that cost them precious points on Saturday, they managed to up their game on Sunday and beat the likes of a Honda Civic Hybrid and Honda CR-Z.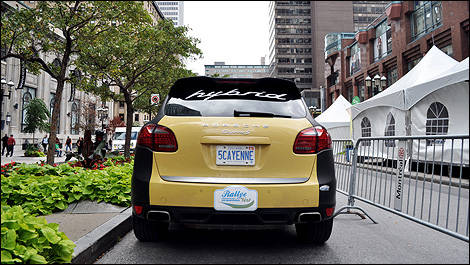 Photo: Auto123.com
However, their greatest achievement was no doubt in the fuel-efficiency department. Over the course of some 600 kilometres, their beefy, 380-horsepower SUV sipped an exemplary average of just 8.2L/100km.
When various factors, including vehicle weight, are taken into account the Cayenne outranked three Honda CR-Zs and two Honda Accord Hybrids, placing 11th out of 19.
The teams rounding out the top four fought tooth and nail all weekend long. Vinh Pham and Piotr Nytko in their plug-in Toyota Prius finally got the better (barely) of Sébastien Kroetsch and Éric B. Meunier in their Lexus CT 200h.
According to the FIA rankings that does not take into account fuel economy, Sébastien Kroetsch and Éric Meunier's Lexus CT 200h won the competition, followed closely by defending Alternative Energies World Cup champions Raymond Durand and Christian Fine. Vinh Pham and Piotr Nytko's plug-in Toyota Prius finished third.
Combined Final results
Toyota Prius Plug-in (Vinh Pham/Piotr Nytko)
Lexus CT 200 h (Sébastien Kroetsch/Éric B-Meunier)
Honda Insight (Martyn Ouellet/Frédéric Bouchard)
Toyota Prius (Raymond Durand/Christian Fine)
Chevrolet Volt (Pascal Tourangeau/David Rozon)
Toyota Prius (Mikaël Grenier/Jonathan Routhier)
Toyota Prius Plug-in (Stéphane Quesnel/Sonia Arguin)
Honda CR-Z (Pierre Piché/Normand Béique)
Honda Accord Hybrid (Pierre Girard/Jean Briand)
GMC Sierra LPG (Yves Boulanger/Cédras Martin)
Honda Insight (Max Caron/Marc Quirion)
Honda CR-Z (Patrick Carpentier/Yvan Joyal)
GMC Sierra LPG (Guy Marchand/Richard Charbonneau)
Honda CR-Z (Andrew Pawliuk/Jacinthe Béliveau)
Porsche Cayenne Hybrid (Olivier Delorme/Marc-André Hallé)
Ford F150 LPG (Pascal Marsan/Patrick Lebeau)
Chevrolet Impala LPG (Stéphane Deschamps/Guillaume Nachin)
Honda Civic Hybrid (Gilles Dufour/Jacques Lessard)
Honda CR-Z (Vincent Aubé/Julie P-Ouellette)
We'll be publishing five articles (one a day) this week, recounting the trials and tribulations of Olivier and Marc-André. We'll delve into the world of green car technology and navigational rallying, with some juicy anecdotes thrown in for good measure.
Stay tuned!