BMW unveiled a host of upgrades that will allow its 7 Series sedan to once again set new benchmarks for performance, luxury, efficiency, and safety.
The 2013 BMW 740i/Li now features the automaker's latest 3.0L TwinPower Turbo inline 6-cylinder engine that produces 315 horsepower. Meanwhile, the 2013 BMW 750i/Li gets a revised 4.4L TwinPower Turbo V8 rated at 445 horsepower (+45). With an 8-speed Steptronic automatic transmission, it sprints from 0 to 100 km/h in 4.7 seconds.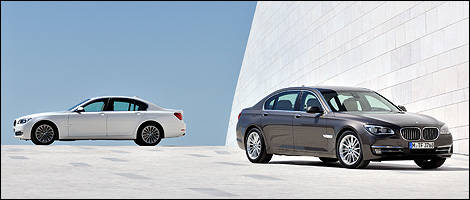 Photo: BMW
As for the 2013 BMW ActiveHybrid 7, its new 3.0L turbo engine is the same 315-horsepower version as in the 740Li and replaces the old V8. Other notable hybrid components include a 55-horsepower electric motor and hybrid-spec Steptronic transmission for 0-100km/h accelerations in about 5.5 seconds.
What's more, drivers can choose between ECO PRO, COMFORT+, COMFORT, SPORT, and SPORT+ modes.
Inside, the new 2013 BMW 7 Series features full speech recognition and optimized voice control with a dictation function that gives drivers the opportunity to dictate text freely and compose short text-based messages. The upgraded navigation system adds 3D elements and new functions including split-screen capability.
The car will go on sale in the United States in late summer, followed by the ActiveHybrid model in early fall. Pricing remains unknown.