Not to blow anyone's mind with a radical piece of news or anything, but the
BMW 328i
we see on the road today is a whole lot different than the original BMW 328 that was launched in the 1930s. Originally a race car that stood for dynamics, aesthetics and innovation, it's been some 75 years since the 328 set the still-unbeaten "highest average speed" record on the Mille Miglia circuit.
Fitting, then, that BMW will bust out the cake and sparklers for the machine's birthday at Lake Como, the site of the famous racing circuit. Of course, a new concept vehicle has been created for the occasion, too.
Balanced between tradition and modernity, the so-called 328 Hommage will be used to celebrate the fascination with the famous racing car.
"With the BMW 328 Hommage, we wish to pay homage to the passion and inventiveness of the fathers of the BMW 328", explains Karl Bäumer, CEO of BMW Group Classic. "They created an icon, which is considered a milestone in the history of the automobile".
The concept vehicle is a modern-day interpretation of how the decades-old racer may have looked if it was built today, using current technology and design practices.
"Lightness" is the word of the day.
For instance, rather than aluminum and magnesium, the 328 Hommage is built with plenty of Carbon Fibre Reinforced Plastic (CFRP)--which BMW says offers an optimal strength-to-weight ratio.
The material is currently used in production versions of the BMW M3 and M6.
On the Hommage, it's proudly displayed on much of the bodywork, though classical leather straps run across the hood for a touch of old-school flare. The strict attention to keeping the 328's weight down helped it spank even more powerful race cars on the track in its heyday.
CFRP is also used within the vehicle cockpit, where it's set off by gloss-black trim and leather. It all comes together with an eye for replicating the pure and functional character of the original machine, while hinting at a possible increase in CFRP's use in upcoming BMWs.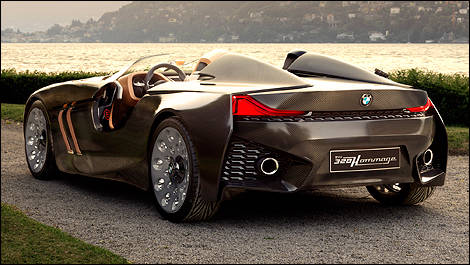 On the Hommage, the of Carbon Fibre Reinforced Plastic is proudly displayed on much of the bodywork. (Photo: BMW)