Already the number-one manufacturer in terms of electric and hybrid vehicles, BMW has confirmed at the 2017 International Motor Show Germany in Frankfurt that it intends to produce 25 such models – including a dozen all-electric vehicles – by 2025, and increase their range up to 700 km.

One of the new BMW models will be based on the BMW i Vision Dynamics concept, a new all-electric 4-door coupe that made it world debut today in Frankfurt as a design study and not yet a full-blown prototype. Slotting in between the i3 and i8, the elegant and sporty model has a range of 600 km and can accelerate from 0-100 km/h in 4 seconds.
BMW is also focusing heavily on the high-end luxury segment, notably following up its new 8 Series concept with the Concept X7 iPerformance, a precursor to the similarly named three-row SUV expected next year, with production set to begin in 2019. The plug-in hybrid combines a turbocharged gasoline engine with an electric motor, the specifications of which have yet to be announced. And while the exterior is spectacular enough in its own right, with its 23-inch wheels and laser lighting elements, BMW affirms that the interior will set new standards for luxury, space, connectivity and personalization.
Another major new appearance in Frankfurt is the i3s, a new, more powerful (184 hp, 199 lb-ft of torque) version of the BMW i3 electric car that features exclusive design elements such as black trim accents, contrasting strips and unique 20-inch wheels, as well as a sport suspension setting the car 10 mm closer to the ground. Its maximum all-electric range is around 280 km, but as with the base-model i3, an advanced gasoline engine/generator is available as an option to extend the range significantly.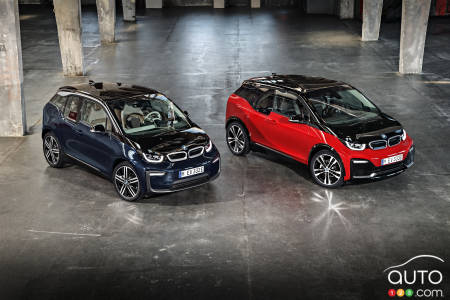 Visitors to Frankfurt will also see the entirely redesigned BMW X3, the new BMW Concept Z4 convertible and the new BMW 6 Series Gran Turismo grand coupe hatchback, set to hit the European market at the end of November but not yet confirmed for Canada.