• BMW has teased a first look at the next 5 Series.
• The model will come with a range of different powertrains in different markets around the world.
• One of those is an all-electric variant that will take the name i5.
• The next 5 Series will be the eighth generation of the model in just over 50 years.
BMW will be unveiling of the eighth-generation 5 Series before the end of the year. Since the model made its debut in 1972, that means this year marks the beginning of its second half-century of existence.
The model will evolve, no surprise there, but reports are pointing to fairly major changes for the 5 Series. We know the product range will include a host of variants and engines. Don't forget that the 5-Series is offered all over the world, so it has to meet a range of needs and realities.
While we can expect gasoline-powered and hybrid versions here, the company has confirmed that an all-electric version is also planned. Unsurprisingly, it will be called the i5 and will join the i4 and i7 in the BMW lineup.
Will it be offered in Canada? That's yet to be confirmed, of course. We know little-to-nothing about that for the moment.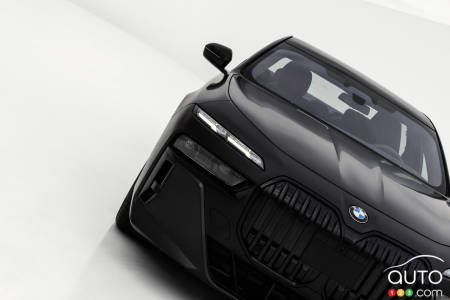 As for the styling, we can imagine a similar approach to what BMW did with the 7 Series. That's just conjecture for now, since the image released by BMW this week shows only the general shape of a car hidden under a tarp.
It's easier to guess what the interior might be like, as we've already seen BMW's approach with a number of other models that it has updated. We can thus expect the new model to incorporate the brand's huge dual curved screen. That houses both instrument cluster and the multimedia system's functions. What's more, we can expect to find the latest version of BMW's infotainment system, iDrive 8.5.
BMW boss Oliver Zipse also confirmed this week that an M-branded model will feature in the electric lineup. It will be to the i5 sedan what the M50 finish is to the i4. Meaning it won't be a full-fledged M proposition.
We'll be back with all the information about the Canadian lineup when we know it, as well as all the details about the 5 Series when it's fully unveiled.